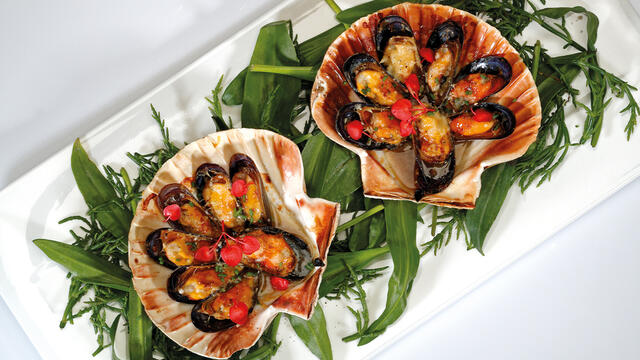 Gratinated Zilt-E mussels
Salty-E mussels au gratin with Zeeland apple syrup and farmers Gouda top cheese from Bourgondisch Lifestyle with a crisp of samphire.
Ingredients
(For 4 servings)
40 mussels from Zeeland (Oesterij Yerseke)
1 tbsp Zeeland apple syrup (Zeeland delight)
1 tbsp Farmers Gouda cheese (South Holland of Bourgondisch Lifestyle)
0.5 liters of salty Eastern Scheldt water purified
pepper from the mill
1 handful of fine Zeeland samphire
4 sprigs of Apple Blossom
Method
Place the mussels in the Zilt-E Oosterschelde water. This ensures that they have the taste as it is when they just come from the Oosterschelde. (Do not rinse with tap water to avoid loss of flavor).
Open and loosen the mussels with a knife and remove the top half of the shell (so that you only have the bottom half with mussel left). Place the half mussel shells containing the raw loose mussel in an empty scallop shell (or au gratin dish).
Put the apple syrup in a piping bag and spray a little bit of apple syrup on all mussels.
Grate a small layer of the farmers Gouda cheese on top.
Put it under a hot salamander or in the oven at 200°C for a few minutes until the cheese is golden brown and the mussels soft and almost done.
Garnish with some ground pepper and some finely chopped samphire and some Apple Blossom leaves.
Drink suggestion: A glass of Xado Blanco 2015 from the Matarraña region in North-East Spain tastes very good with this starter. This wine has a straw yellow color with green highlights, notes of white fruit and aromatic herbs in the nose, fresh and smooth on the palate with a fruity aftertaste. Serve advice: 9ºC. Available for the catering industry in the Netherlands and Belgium via the importer www.sabores.nl.
Recipe: Hans Everse
Related recipes
Gastronomical masterpieces
Related products
Say yes to the cress