Ingredients
(For 10 people) 
800 g Livar pork belly without rind 
1 dl sweet soy sauce 
½ tablespoon of sambal 
20 g sea salt 
30 cl of cognac 
vacuum cooking bag 
500 g floury potato 
2 dl milk 
2 tbsp Limburg mustard 
50 g butter 
3 dl demi glacé (own recipe) 
30 small broccoli florets 
porcini mushrooms powder 
cane sugar 
2 slices of Frisian rye bread 
Rock Chives 
Shiso Purple 
pepper and salt
Method
Brush the pork belly with the sea salt and sambal, put in the cooking bag and add the soy sauce and cognac. Pull vacuum and cook at 60°C for 10 hours. Make a smooth puree from 400 g potatoes, the milk and butter and add the Limburg mustard. Season with salt and pepper.
Blanch the broccoli. Boil the remaining potatoes in water with salt until very tender and mix in a food processor, make it so thick that you can spread it. Spread on silicone mats and sprinkle some porcini mushrooms on top (to taste) and let dry in the oven at 90°C.
Cut the pork belly into slices of 7 to 8 mm thick and sprinkle with cane sugar. Caramelise this with a crème brûlée burner. Make sure everything is warm so that you can garnish.
Pipe 2 tufts of puree on the plate and spread 3 pieces of pork belly on top, garnish with the broccoli, potato crisps, Rock Chives and Shiso Purple. Crumble the rye bread and sprinkle it playfully. Add a few spoons of sauce and you're done.
Beersuggestion: La Trappe Quadruppel Oak Aged batch 25 
Recipe: Erik Wijnhoven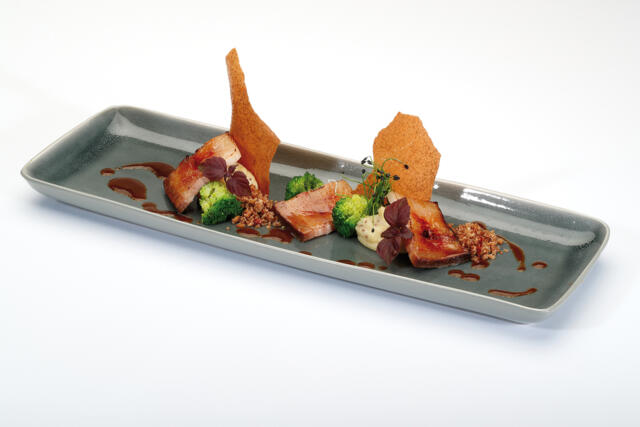 Related recipes
Gastronomical masterpieces
Related products
Say yes to the cress