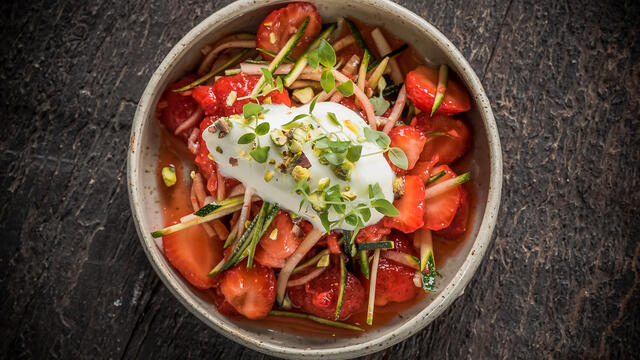 Crushed strawberry with ginger, courgette, pistachio ice cream and Limon Cress
,
Frank Fol – The Vegetables Chef®
Ingredients
(For 4 portions)
250 gr strawberry
1 small green courgette
1 courgette flower
Piece of fresh ginger
El Flamenco olive oil
Black pepper from the mill
Coarse sea salt
Limon Cress
Pistachio ice cream - iLuigi Fresh pistachio
Method
Strawberry courgette:
Wash strawberries, dry and then thrive.
Crush lightly with fork.
Cut courgette in julienne.
Mix raw with strawberry and some grated ginger.
To finish off:
Divide the strawberry-courgette mix in the bowls.
Place a spoonful of pistachio ice cream on each preparation.
Finish off with the coarsely chopped pistachios, a few drops of olive oil and some Limon Cress.
Recipe: Frank Fol - The Vegetables Chef®
Photo: Wim Demessemaekers, Photographer | @wim_dmskrs
Preparation time: 15 minutes
Techniques: sauce, roast, raw
Plate: Wild Moon wild white bowl
Recommended drink: Perfumed water with ginger
Related recipes
Gastronomical masterpieces
Related products
Say yes to the cress