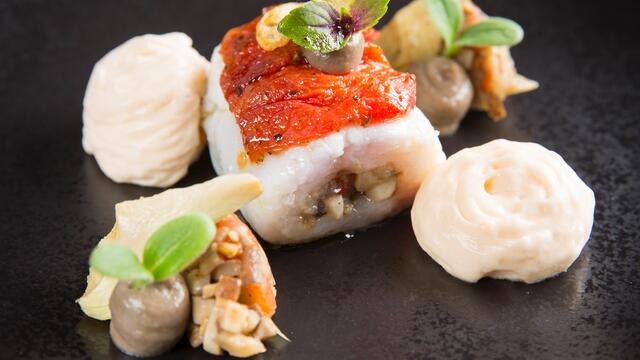 Stuffed monkfish with mushroom, dried tomato and Borage Cress
Working with a local farmer's wife who owns a vegetable garden planted at his request brings Alexander Wulf closer to his ultimate goal: a modern global kitchen with Russian touches.
Ingredients
Borage Cress
Basil Cress
potato chips
dried tomato slices
quarters poivrade artichoke
For the stuffed anglerfish:​
4 monkfish medallions of 60 g each
4 finely chopped prawns
4 finely cut scallops
4 tsp chopped olives
16 slices of dried tomato
1 clove of garlic
80 g chopped Basil Cress
60 g chopped Borage Cress
4 small candied sweet peppers in fine brunoise
For the mushroom puree:​
4 shallots in brunoise
1 clove of garlic in fine brunoise
10 mushrooms in fine brunoise
50 g of butter
5 cl cream
2 tbsp panko
thyme
juice of 1/2 lime
For the mushroom duxelles:​
5 cl olive oil
3 mushrooms in fine brunoise
1 candied sweet pepper in fine brunoise
1 tsp dried tomato in fine brunoise
1 tsp finely chopped Basil Cress
2 shallots in fine brunoise
For the miso foam:​
1 dl beurre noisette
4 dl clear tomato juice
1 dl coconut milk
3 tbsp clear miso paste
salt
pepper
3 tbsp basic textura
Method
Beat the monkfish until flat to a thickness of 5 cm. For the filling, mix the tartar of shrimp, scallop, olives, garlic, Basil Cress, Borage Cress and bell pepper.
Season with salt and pepper and roll into a roulade in plastic wrap. Wrap the roll tightly in aluminium foil and steam in the oven at 54°C for 8 minutes.
For the mushroom puree, fry the shallots and mushrooms in butter, deglaze with lime juice and cream and leave to steep at 90°C.
Puree this mass with the panko smooth. For the duxelles, fry the mushrooms and shallots in olive oil, add the candied bell pepper and cook for 2 minutes.
Season with the tomato and chopped Basil Cress. Chop the duxelles.
For the foam, reduce the juice by half and supplement with the coconut milk and warm beurre noisette.
Season with the miso, salt and pepper and bind with textura. Cut the monkfish into slices and top with the dried tomato slices.
Serve with the puree and duxelles and finish with the foam. Garnish the dish with the Borage Cress and the Vene Cress, the artichoke and the potato chip.
***
Restaurant St. Jacques

Feldstrasse 50, Heinsburg, Duitsland
Tel 0049/2453 306 980
www.burgstuben-residenz.de
Recipe: Alexander Wulf 
Source: Culinaire Saisonnier 91 - Winter 2018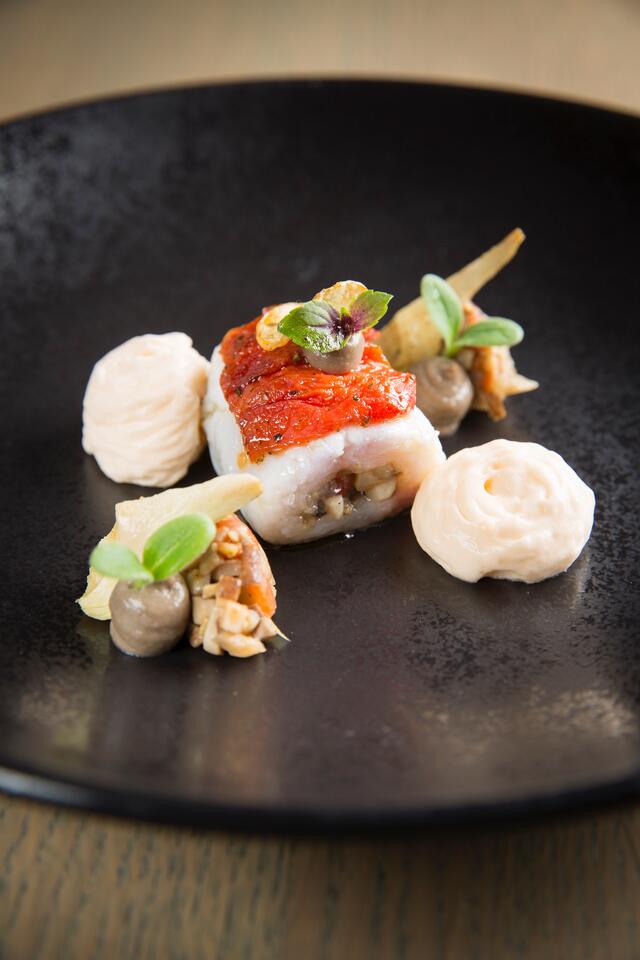 Related recipes
Gastronomical masterpieces
Related products
Say yes to the cress