Ingredients and method
Ingredients  - A journey of Its Own
Parfait of Okayama banana with a layer of white chocolate
Parfait of Yangmei/Goji berry
Parfait of smoked Okayama banana
Parfait of Kaffir Lime Leaves
Powder of (dried) Kaffir Lime Leaves
Goji berry and lime vinaigrette
Vanilla oil
Zalotti Blossom
Vene Cress
Ingredients - From Okayama to Bangkok
Crémeux of yellow curry
Spicy peanut crunch
Passion fruit parfait
Coconut parfait
Mangosteen parfait
Vanilla Sansho Leaves ice cream
Goat's hangop (curd)
Yuzu zest
Roasted hazelnut
Honny Cress
Ghoa Cress
Apple Blossom
Jasmine Blossom
Method - A Journey of Its Own
Prepare the Kaffir Lime Leaves parfait.
On the first plate, create a layer with vanilla oil.
Arrange the various parfaits on the plate.
Sprinkle Kaffir lime powder over the banana parfait.
Carefully drizzle the vinaigrette over the dish.
Finish with Vene Cress and Zallotti Blossom (petals).
Method - From Okayama to Bangkok
Prepare the Vanilla Sansho Leaves ice cream.
Place the yellow curry layer in the center of the plate.
Generously cover with the peanut crunch.
Create a small mound of goat's hangop crumble next to it.
On the second plate, continue assembling the various parfaits.
Finally, place the Vanilla Shiso Leaves ice cream.
Complete the second plate with Apple Blossom, Jasmine Blossom leaves, Honny Cress, and Ghoa Cress.
Flavour with zest of yuzu as a finishing touch.
Serve.
Recipe: Kelvin Lin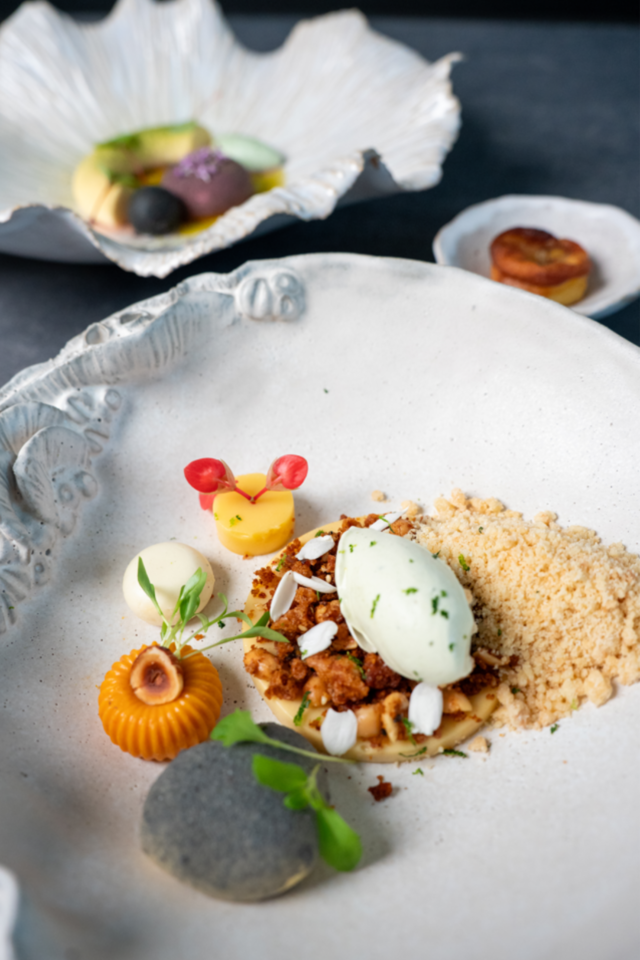 Related recipes
Gastronomical masterpieces
Related products
Say yes to the cress