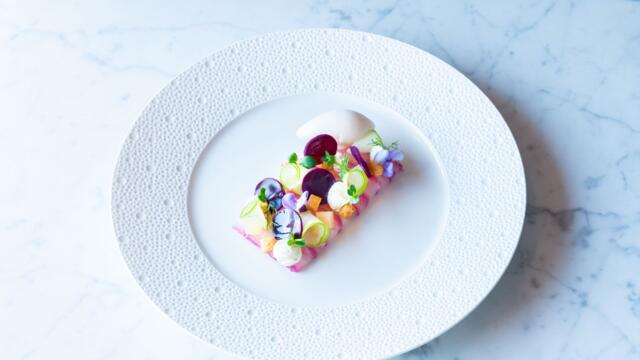 Halibut gravlax, red cabbage, apple, Bean Blossom
We are with Baptiste Heugens from restaurant Two6Two in Strassen, in the Grand Duchy of Luxembourg.
Ingredients
(for 4 persons)
1 halibut fillet of 400 g
4 Pink Lady apples
1 young onion
100 g Isigny cream
pickle juice
20 g Meaux mustard
1 lime
15 g tarragon
1/4 red cabbage
1 kg of coarse salt
150 g of sugar
3 dl beet juice
1 cup of Daikon Cress
1 cup of Bean Blossom
bread croutons
apple ribbons
Method
Marinate the pre-peeled fish fillet in the salt and sugar mixture for 2 hours, rinse and dip in ice water for 20 minutes. In the meantime, beat the cream with the mustard, grated lime zest, salt and pepper.
Cut the red cabbage with a ring, dip in the pickle juice, bring to a boil, then immediately cool and store in the refrigerator. Cut the green of the onion and an apple in brunoise and keep in the fridge.
Centrifuge the remaining apples and the apple trimmings, bring the juice to a boil and pass through a sieve. Let the tarragon soak in this mixture for 20 minutes. Remove the tarragon and turn the juice into sorbet.
Cut the halibut into thin slices and place all elements on it. Place a quenelle sorbet on the composition, then garnish with Daikon Cress and Bean Blossom flowers.
***
Two6two
Route d'Arlon 262, Strassen
Tel. 00352 621 213 208
www.two6two.lu
Recipe: Baptiste Heugens
Source: Culinaire Saisonnier 95 - Winter 2019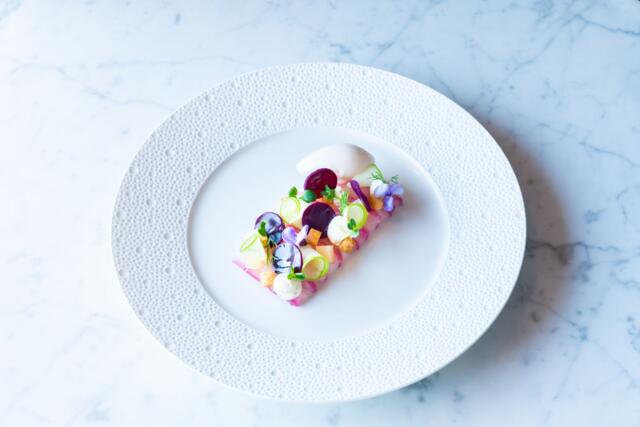 Related recipes
Gastronomical masterpieces
Related products
Say yes to the cress