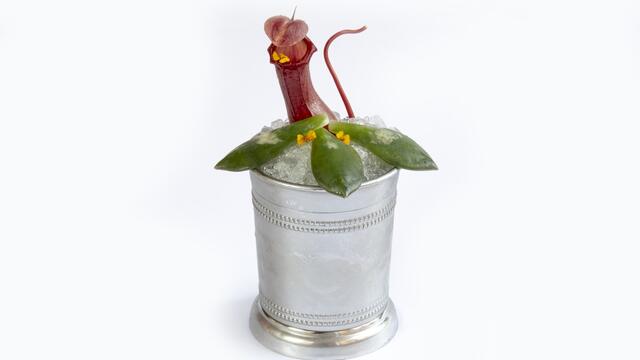 Hiruki
A real tribute to the agave, demonstrating how to use Koppert Cress products as recipients.
Ingredients
Venus Paloma: 
4cl Tequila  
1cl lemon juice 
12cl grapefruit juice 
a dash Aclla Cress syrup 
ice-cubes 
Venus Vase 
Anise Blossom 
Majii Shots:
2cl Mezcal
1cl lemon juice
1cl cointreau
crushed ice
Majii Leaves
Method
Blanch 3 Majii Leaves for 10 seconds, then gently massage the leaves to break the inside fibers. (Be careful to not break the skin).
Mix the ingredients for the shot in a glass and fill the Majii Leaves, using a pharmacy syringe; then place the leaves on a bed of crushed ice to chill. 
Combine the Paloma ingredients in a cocktail shaker, shake well.  
Fill a Julep style glass with crushed ice, serve the Paloma into the Venus Vase and add to glass. 
Lay the 3 Majii Leaves around the Venus Vase and decorate with a few Anise Blossom.  
Pairing: Tacos al pastor with chipotle sauce and Sakura Cress and Aclla Cress. 
Recipe: Created by Lisette Dawtrey (Koppert Cress Spain) and Damiá Mulá (CETT) for the DEU Bartending & Mixology.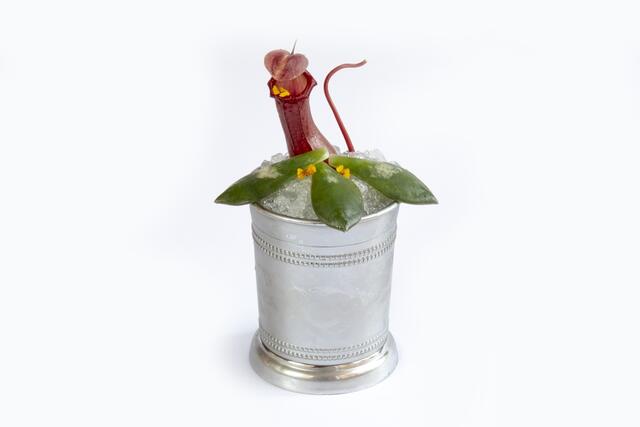 Related recipes
Gastronomical masterpieces
Related products
Say yes to the cress