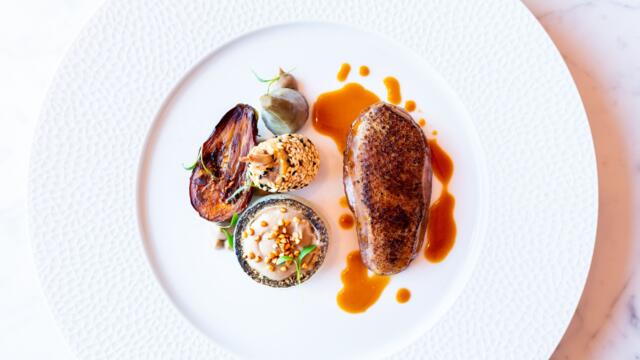 Young duck, eggplant, buckwheat, Ghoa Cress
We are with Baptiste Heugens from restaurant Two6Two in Strassen, in the Grand Duchy of Luxembourg.
Ingredients
(For 4 persons)
2 young ducks
60 g ginger
1 lemongrass stalk
roasted mini aubergine
braised violet artichoke
1/2 allspice
100 g plum puree
4 plums
50 g of honey
2 dl soy sauce
1 dl mirin
3 dl clear duck stock
200 g of butter
2 small onions
5 aubergines
15 g miso
100 g buckwheat seeds
sesame seeds
sesame oil
sake
1 cup of Ghoa Cress
Method
Sweat the ginger, lemongrass, chilli and garlic from the sauce in a sauté, add the plum puree and the honey and caramelize the whole. Deglaze with the mirin, then add the soy sauce and duck consommé.
Leave under the lid for 20 minutes, pass through a sieve and assemble with cold butter a minute. Cut the breasts off the ducks and debone the legs. Roll in stretch wrap, vacuum and cook at 54°C for 25 minutes.
Cut the onions vertically in half and preserve for 1 hour in butter at 90°C. Color the cut surface of the onion and reserve some beautiful onion rings. Cut 1 aubergine and the plums in brunoise, then colour in sesame oil and deglaze with sake.
Grill the rest of the aubergines and cook them in the oven at 180°C for 45 minutes. Remove the skin and dry the meat with the miso in a pan. Blend the mixture with 100 g of butter. Fry the buckwheat and salt it on kitchen paper.
Fill a ring onion with the aubergine and plum mixture, cover with the miso puree and sprinkle with buckwheat. Colour the skin side of the duck breasts. Bread the legs in a mixture of breadcrumbs and sesame seeds and fry them.
Arrange all ingredients on the plate and garnish with the Ghoa Cress.
***
Two6two
Route d'Arlon 262, Strassen
Tel. 00352 621 213 208
www.two6two.lu
Recipe: Baptiste Heugens
Source: Culinaire Saisonnier 95 - Winter 2019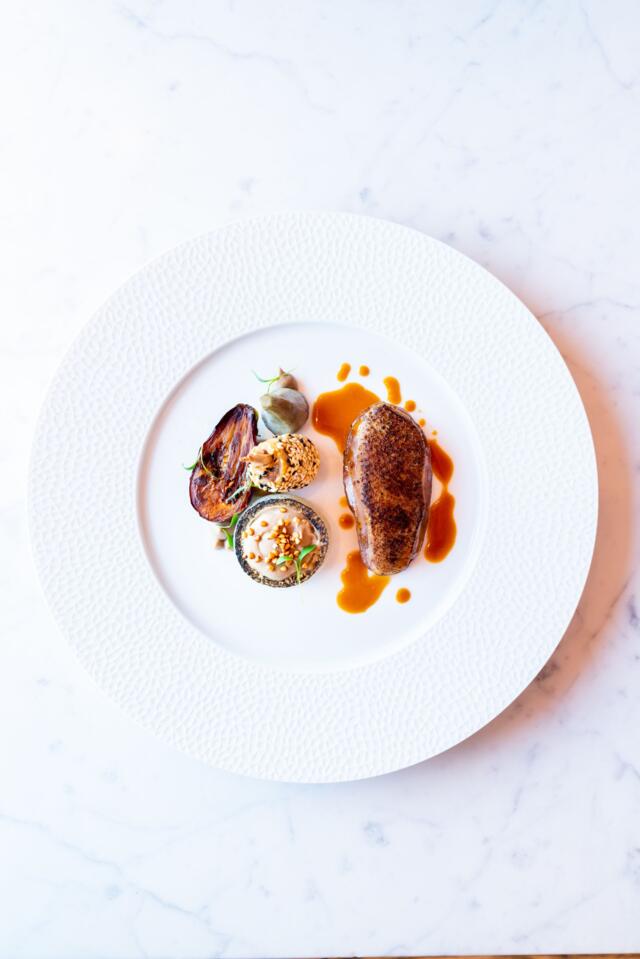 Related recipes
Gastronomical masterpieces
Related products
Say yes to the cress