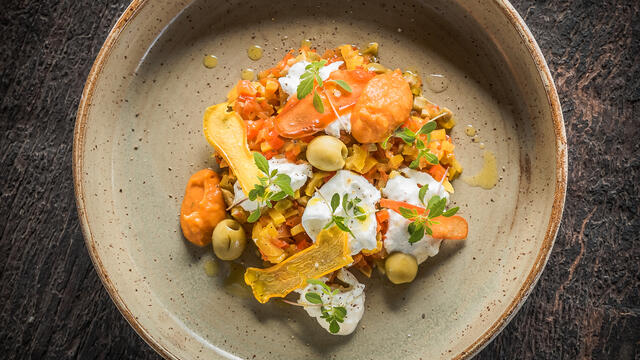 Caviar of paprika, marjoram, green olive, flakes of burrata and Aclla Cress
,
Frank Fol – The Vegetables Chef®
Ingredients
(For 4 portions)
1 yellow paprika 
1 red paprika 
Jar of green olives without stone 
2 sprigs of fresh marjoram 
1 tray Aclla Cress
Olive oil El Flamenco 
1 Fresh burrata 
150 gr. Bio Légumaise Provence - paprika with thyme 
Black pepper 
Coarse sea salt 
Method
Parchment: 
Cut wafer-thin slices of yellow paprika.
Grease an oven tray with olive oil or use an oven cloth. 
Place the raw paprika chips here side by side and season with sea salt and black pepper. 
Place these in an oven at 100°C for 30 to 40 minutes until crispy. 
Caviar: 
Clean, wash and cut all other paprikas into a fine brunoise. 
Cut some green olives into fine brunoise. 
Briefly fry everything until soft and crispy in a dash of olive oil. Season with black pepper and sea salt. Add finely chopped marjoram and mix. 
Let it cool down. 
Finish: 
Divide the cold paprika-olive caviar over the 4 plates. 
Pick the burrata and spread over the caviar. 
Place some olives as a garnish. 
Cut the cresses and place over the preparation. 
Finish with a few more drops of olive oil, coarse sea salt and black pepper on the burrata. 
Spoon in the légumaise. 
Recipe: Frank Fol - The Vegetables Chef®
Photo: Wim Demessemaekers, Photographer | @wim_dmskrs
Preparation time: 20 minutes 
Techniques: caviar, raw, stew, parchment, marinating, emulsion 
Plate: Wild Moon large ceramic sphere plate 
Recommended drink: White wine, Pinot Auxerrois - Winery Valke Vleug, Scheldeland – Belgium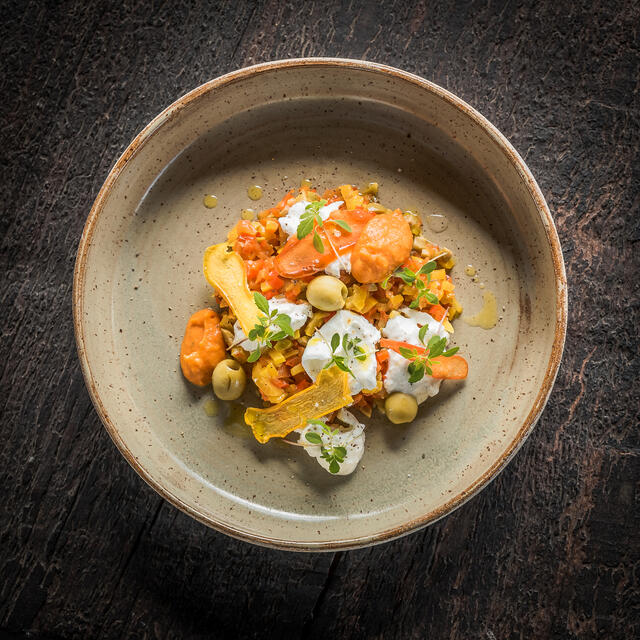 Related recipes
Gastronomical masterpieces
Related products
Say yes to the cress