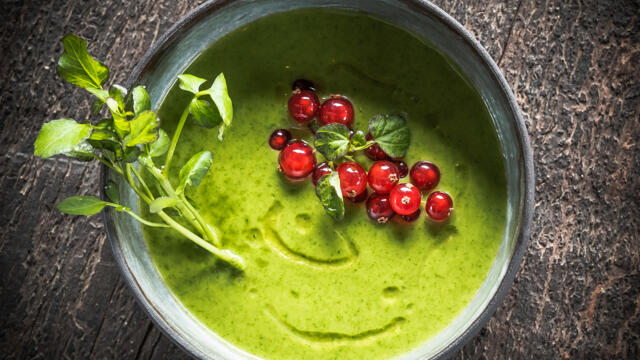 Cold watercress soup with Hippo Tops, red currant and argan oil
,
Frank Fol – The Vegetables Chef®
Ingredients
(For 4 portions)
2 white onion 
1 flounder watercress 
1 tray of Hippo Tops
Arqan argan oil 
4 bunches of ripe red currant 
Cayenne pepper 
coarse sea salt 
Method
Watercress soup: 
Peel, wash and chop the onion. 
Wash watercress and cut stalks from leaves. Finely chop the stems. 
Stew the stems together with the onion in a dash of argan oil. Season with cayenne and sea salt and moisten with a dash of Super Kroon beer and some water. 
Stew gently under the lid for a few minutes. Now add the watercress leaves, let it boil and mix everything in the blender. Taste and season if necessary. 
Place in the refrigerator. 
Finish: 
Divide the cold watercress soup over the four bowls. 
Place a bunch of red currants in each, as well as some sprigs of Hippo Tops. 
Finish with a few more drops of roasted argan oil flavor. 
Recipe: Frank Fol - The Vegetables Chef®
Photo: Wim Demessemaekers, Photographer | @wim_dmskrs
Preparation time: 15 minutes
Techniques: raw, soup
Plate: Wild Moon medium-sized ceramic bowl 
Recommended drink: Beer Super Kroon, Brewery De Kroon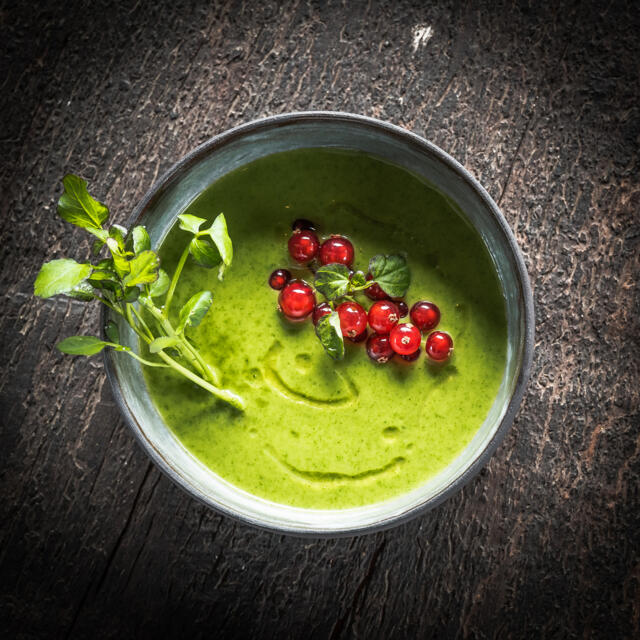 Related recipes
Gastronomical masterpieces
Related products
Say yes to the cress