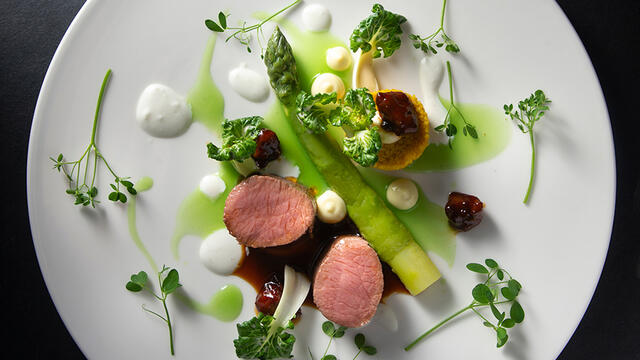 Lamb and Affilla Cress
Torben Schuster: "I prefer to cook what I like and especially with the cold dishes I sometimes want to bring some theatre on the plate, although always functional."
Ingredients
Limousin lamb's back and sweetbreads
Salad Pea
Affilla Cress®
court broth
lamb gravy
mini paksoy
Pertuis asparagus
For the couscous:
ras el hanout
100 g of couscous
2 dl vegetable stock
For the bean juice:
1 kg of string beans
xantana
cayenne pepper
salt
For the ras el hanout cream:
1 dl of protein
1 dl yoghurt
5 dl ras el hanout oil
salt
cayenne pepper
lemon juice
For the sheep yoghurt:
250 g yoghurt
5 cl sheep's milk
1 lime
White pepper
Method
Remove the meat from the back, fry and cook as desired. Blanch the sweetbreads in the court broth and peel. Fry the sweetbreads and glaze with the lamb gravy.
Bring the stock to the boil with the ras el hanout and pour on the couscous. Let it soak for 10 minutes and stir with a fork.
Briefly blanch the beans, centrifuge, season and bind with the xantana. Mix all ingredients for the cream and emulsify.
Dilute the yoghurt with the milk, grate the lime zest and season to taste. Light the paksoy, blanch and stew the asparagus and playfully dress everything on the plate.
Garnish with the Affilla Cress® and the Salad Pea.
***
Restaurant Gut Lärchenhof

Hahnenstraße 1, Pulheim, Duitsland
T 0049/2238 9231016
www.restaurant-gutlaerchenhof.de
Recipe: Torben Schuster:
Source: Culinaire Saisonnier 93 - Summer 2019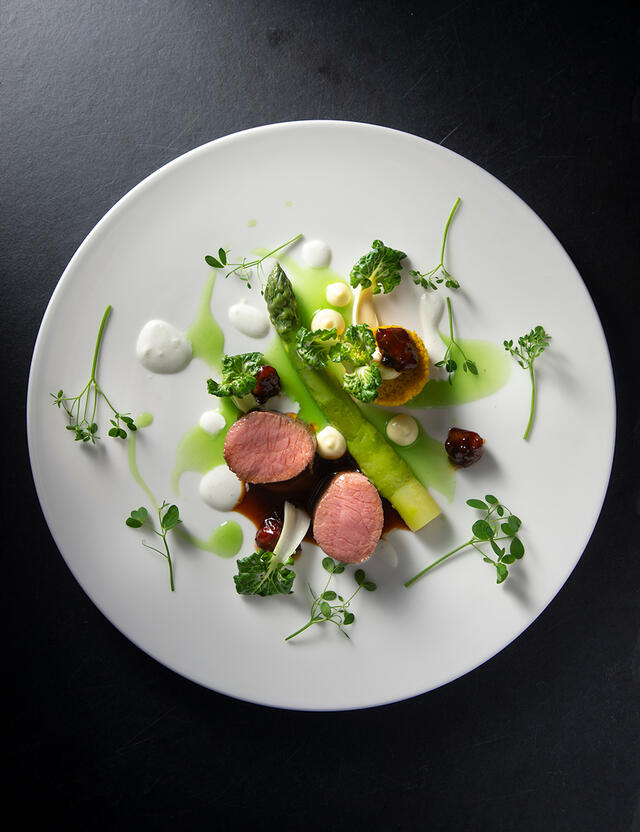 Related recipes
Gastronomical masterpieces
Related products
Say yes to the cress