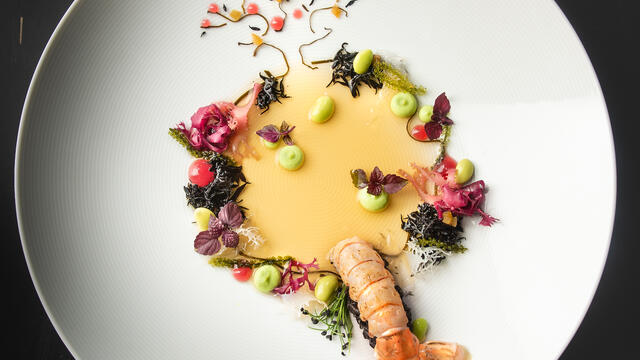 Langoustine
Grischa Herbig prefers to cook what he likes. Where the environment has no limit, so does his kitchen.
Ingredients
pickled plum brunoise
Shiso Purple
Rock Chives®
edamame beans
For the dashi:
2 l of filtered water
20 g kombu
500 g Norway lobster carcasses
20 g bonito flakes
10 g ginger root
1.5 g of kafir lime leaf
3 g xantana
20 g koji
20 g ponzu
For edemame cream:
puree of edamame beans
nage
sugar
salt
For the hijike an lane algae:
For the tosaka Algae red / white:
For the umibudo algae:
For the Norway lobster:
500 g of sugar
800 g of salt
sixties of 12 limes
sixties of 12 lemons
bruised mustard seed
crushed pepper
langoustines
lemon oil
For the black sushi rice:
200 g of rice vinegar
170 g of sugar
60 g of salt
50 g squid ink
90 g of nishiki rice
95 g of water
For the ume plum angel:
500 g plum juice
100 g umeshu
7 g agar
Methods
For the dashi, rub the kombu with a cloth soaked in sake, pour the boiling water over it and leave to cover for 30 minutes.
Roast the carcasses, add to the algae stock and bring to just below boiling point with the other ingredients.
Cover and let stand for 30 minutes away from the heat and pass through a cloth. Add the xantana, koji and punzu and mix.
Bring to a boil, skim and pass through a fine sieve. A clear stock should remain.
For the cream, beat the mash with the nage and season with salt and sugar.
Place the algae in the corresponding moisture for 1 hour and turn the hijike and long algae into a tree. Garnish the tree with plum cubes and plum gel.
Serve the remaining algae all around. Let the langoustines brine dry for 10 minutes and then burn them on both sides.
For the rice, make a marinade of the rice vinegar, sugar, salt and squid ink. Rinse the rice well and soak in water for 24 hours.
Cook the rice in the water and mix with the marinade.
For the gel, boil 300 g of juice with the agar, add the remaining juice and the umeshu, allow to harden and blender until smooth.
Dress the algae next to it, pour the dashi in the middle of the plate and add the langoustine. Garnish the dish with the Shiso Purple and the Rock Chives®.
***
Restaurant La societé

Kyffhäuserstraße 53, 50674 Köln, Duitsland
Tel. 0049 221 232 464
www.restaurant-lasociete.de
Recipe: Grischa Herbig 
Source: Culinaire Saisonnier 92 - Spring 2019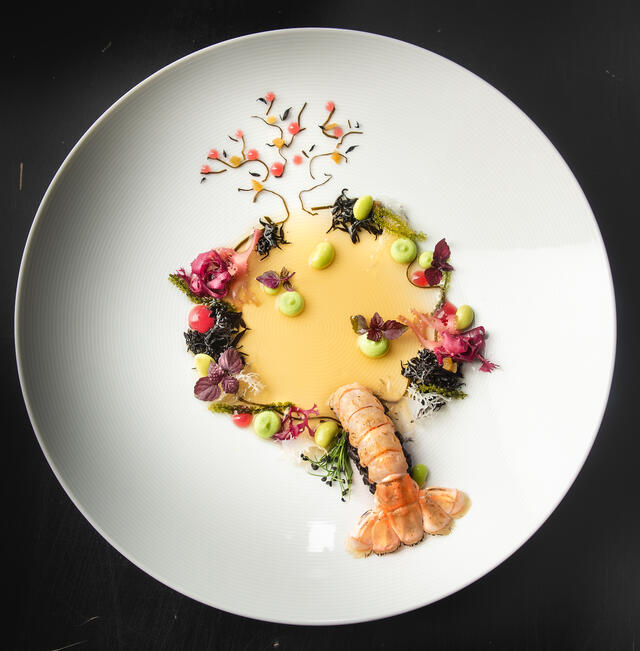 Related recipes
Gastronomical masterpieces
Related products
Say yes to the cress