Ingredients
(For 4 portions)
1½ punnet of Kyona Mustard Cress 
200gr cooked soya beans 
4 medium chestnut mushroom  
8 pieces purple round radish
120gr chestnut puree 
40gr whole hazelnuts 
juice of ½ lemon
Method
Using a round pastry ring, place it in the centre of the plate and fill with cooked soya beans in order to cover a circle, keep the ring in place.
Slice finely the chestnut mushroom and place on top on the soya beans.
Brush the mushroom layer with the lemon juice.
Slice the purple round radishes and create a "rosace "in the middle of the centre and on top of the mushroom.
Remove gently the pastry ring and pipe some dots of smooth chestnut puree around and on top of the mushroom.
Add the hazelnuts and the Kyona Mustard Cress.
Serve.
Recipe: Franck Pontais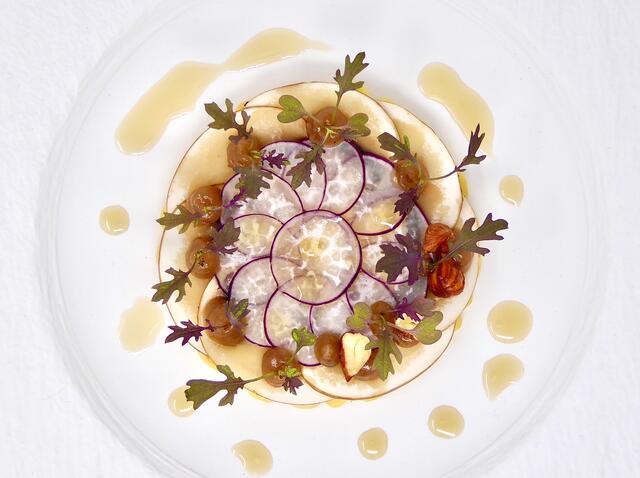 Related recipes
Gastronomical masterpieces
Related products
Say yes to the cress