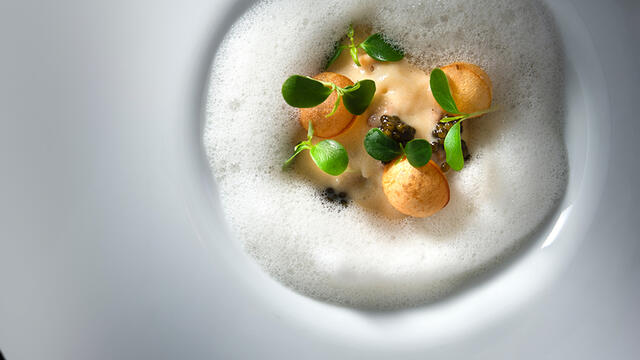 North Sea crab and Tahoon Cress
Torben Schuster: "I like to cook what I like and especially with the cold dishes I sometimes want to bring some theatre on the plate, although always functional."
Ingredients
north sea crab
Tahoon® Cress
lime
pepper
salt
pommes soufflées small and large
caviar
creme fraiche
For the smoked potato espuma:
mash potatoes
milk
pepper
salt
For the mashed potatoes
For the buttermilk foam:
buttermilk
lime
White pepper
salt
lecithin
Method
Steam the crab legs in the oven at 85°C for 3 to 5 minutes and season the meat with salt, pepper and some lemon juice.
Boil the potatoes, mash them and bring to the right thickness with the milk. Season the espuma, fill a siphon and aerate with 2 cartridges.
Cut fine brunoise from the potato, fry until crispy, season and let dry. Mix all the ingredients for the foam.
Fill the large pommes soufflées with the crème fraîche and chopped Tahoon® Cress. Garnish with the caviar and serve as a side dish.
Place the crab meat in a deep plate, spoon the espuma around it and garnish with the potato crackers, Tahoon Cress and small pommes soufflées.
Heat the foam lukewarm and spoon with the crab.
***
Restaurant Gut Lärchenhof

Hahnenstraße 1, Pulheim, Duitsland
T 0049/2238 9231016
www.restaurant-gutlaerchenhof.de
Recipe: Torben Schuster
Source: Culinaire Saisonnier 93 - Summer 2019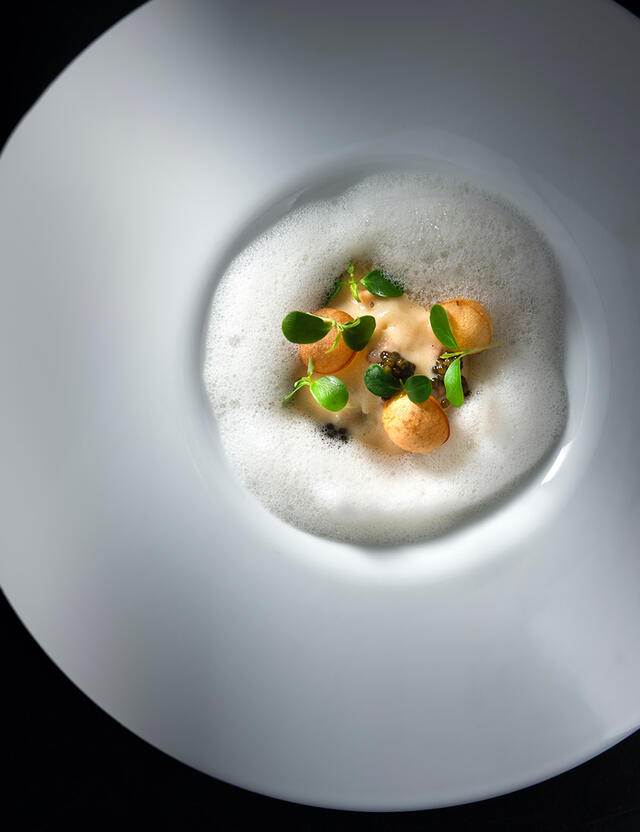 Related recipes
Gastronomical masterpieces
Related products
Say yes to the cress