Ingredients
(For 4 portions)
Wafer:
100g rice flour
5 egg whites from medium eggs
20 pieces of Salad Pea
Bhaji:
24 pieces of Salad Pea
4 red onions small to medium
80g mango chutney with chunks
2 tbsp flour
¼ of a tsp baking powder
¼ of a tsp sumac
¼ of a tsp paprika
5 tbsp water
oil for frying
Method
Wafer: 
Mix together the rice flour and the egg whites.
Divide the mix into 4 and lay each wafer mix on a non-stick baking paper and arrange 5 pieces of Salad Pea on top of each wafer.
Add another baking paper on top of each wafer and cook in the oven at 180℃ for 6 to 8 minutes, then remove the first layer of paper on top and put back in the oven for another 5 minutes or until golden brown. Remove and place on a cooling rack until use.
Bhaji: 
To make the batter, blend together the flour, baking powder, sumac, paprika and water (in that order). Whisk well and leave aside.
Peel and slice the red onions very finely and mix in and crush a little with 20 pieces of Salad Pea.
Pour the vegetable mix into the batter and form some portion by pressing in the middle of your hand.
Fry each portion until golden brown, lay on a tissue paper once cooked to remove the excess of oil.
Serve on the freshly made wafer with one piece of salad pea on each one (see picture) and one spoon of Mango chutney
Enjoy!
Recipe: Franck Pontais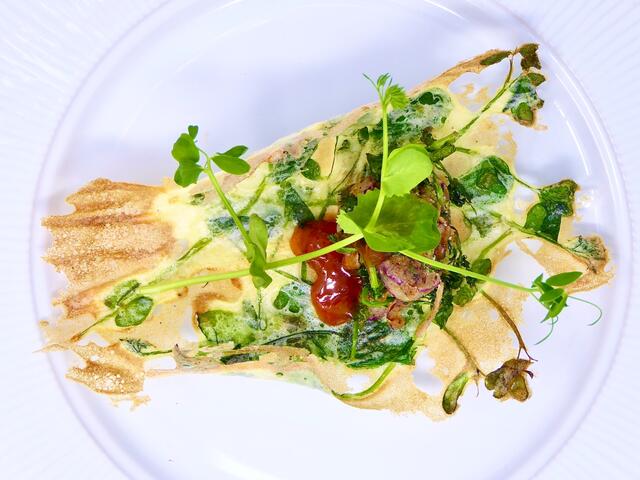 Related recipes
Gastronomical masterpieces
Related products
Say yes to the cress