Ingredients
(To make 4 poké bowls)
120g cooked choi sum cabbage
120g radish balls 
100g orange segments
150g cooked button mushroom 
150g cooked sprouting broccoli 
150g cooked baby courgettes
400g cooked rice
2 punnets Ghoa Cress 
2 punnets Sakura Cress
400g fresh salmon filet 
40g mixed seeds
For the dressing:
100ml sesame oil 
juice from 1 lemon
zest from 1 lemon
40ml soya sauce  
Method
Cut all the cooked vegetables in ready to eat pieces.
Cut the salmon filet into 4 thick strips. 
Lay down some cling film on the table and pour the mixed seeds on it, roll each strip of Salmon into the seeds and tie up the finished roll. (ready to cut)
To make the dressing, emulsify the sesame oil, lemon juice, lemon zest and soya sauce in a bowl.
Cut the salmon into slices and place all the ingredients into the "Poké Bowl ".
Add the freshly cut Ghoa Cress and Sakura Cress and add the dressing.
Serve.
Recipe: Franck Pontais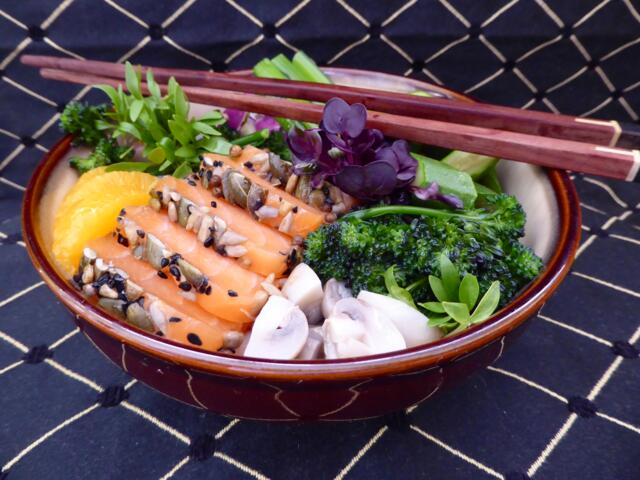 Related recipes
Gastronomical masterpieces
Related products
Say yes to the cress