Ingredients
To make 4 portions
8 pieces Maji Leaves                                    
4 pieces Blinq Blossoms                                              
4 leaves Shiso Purple Leaves                     
500gr salmon filet                                                                                                                        
240gr cooked white rice                             
2 medium pieces Choi Sum cabbage                     
2 tbsp soya sauce                                          
1tsp miso paste                                              
1tsp Mirin                                                         
1 lemon lemon juice                                     
30gr fresh gratted ginger                            
1tbsp honey                                                    
4 tbsp Miso Sauce
Method
To make the marinade, using a mixing bowl, whisk together the soya sauce, miso paste, mirin, lemon juice, ginger and honey.
Trim the salmon and cover the 4 portions with the marinade, making sure it goes on all sides, using a plastic bag is probably best. Leave to marinade overnight. 
Clean, trim and blanch the Choi sum cabbage in salty water, drain, refresh and keep aside.
Peel 4 Maji Leaves and cut them into julienne.
Remove the salmon from the bag and cut each portion into slices.
On the plates , place the salmon top of the cooked rice , add the julienne of Maji Leaves, the whole unpeeled Maji Leaves , the Shiso Purple Leaves, the Blinq Blossom and the Choi Sum Cabbage.
Add the Miso sauce and serve.
Recipe: Franck Pontais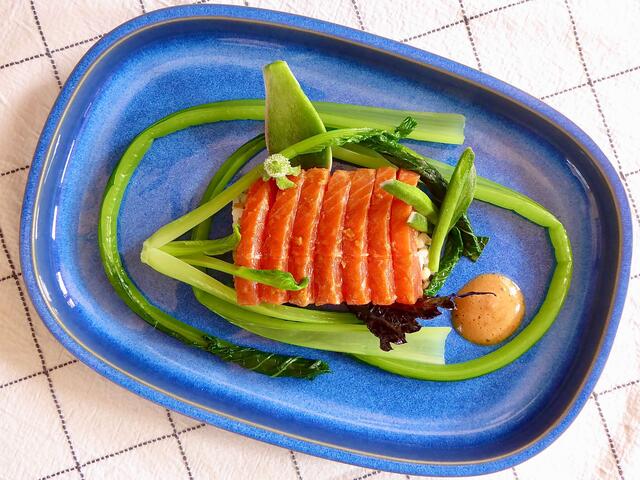 Related recipes
Gastronomical masterpieces
Related products
Say yes to the cress