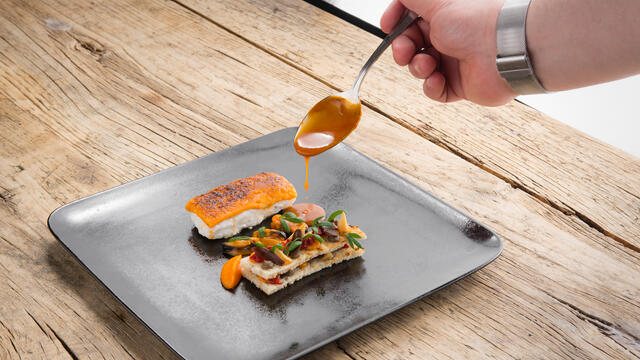 Haddock, Mussels and Kaffir Lime Leaves
Marcel Fischer is a versatile chef, lost to his Thuringia and her rich eating traditions. The cresses are an obvious extension of this for him.
Ingredients
Sea Fennel
bread croûtons
semi-dried tomatoes
chopped spring onion
ground black garlic
pearl onions
slices of black garlic
haddock fillets
For the mussels:
1 kg of mussels
5 cl olive oil
100 g chopped onion
100 g sliced white of leek
100 g tomato roma
3 sprigs of thyme
2 dl white wine
1 pc Kaffir Lime Leaves
For the rouille:
200 g of floury potato
100 g of red pepper
50 g onions
2 cloves of garlic
1 dl olive oil
saffron threads
salt
For the haddock crust:
4 sprigs of thyme
50 g of dried tomato
50 g of butter
30 g panko
1 egg yolk
salt
pepper
Method
For the mussels, put all the aromatics in some oil, add mussels and wine and let it boil.
Remove the mussels, clean them and let the gravy with aromatics cook for another 5 minutes.
Mash the gravy, pass through a fine sieve, reduce to the desired thickness and warm the picked mussels in it.
For the rouille, boil the potatoes in salted water. Cook the other ingredients separately, blender both smoothly, assemble with the olive oil and season.
For the crust, blend all ingredients smooth and roll out thinly between two sheets of baking paper.
Briefly fry the haddock and place a slice of crust on it, continue cooking in the oven and gratin under the salamander. Heat the mussels.
Garnish two croûtons with the indicated components, stack them and put the Sea Fennel on top. Dress all components on the plate and spoon some rouille.
***
Spa & Golfresort Weimarerland
Weimarer Str. 60, Blankenhain
Tel. 0049 36459 61640
www.golfresort-weimarerland.de
Recipe: Marcel Fischer
Source: Culinaire Saisonnier 88 - Spring 2018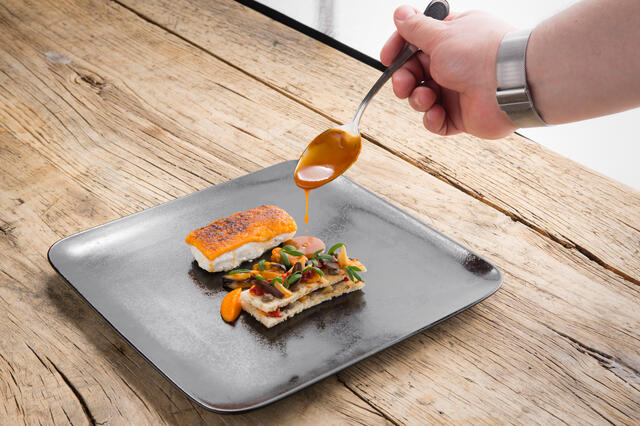 Related recipes
Gastronomical masterpieces
Related products
Say yes to the cress