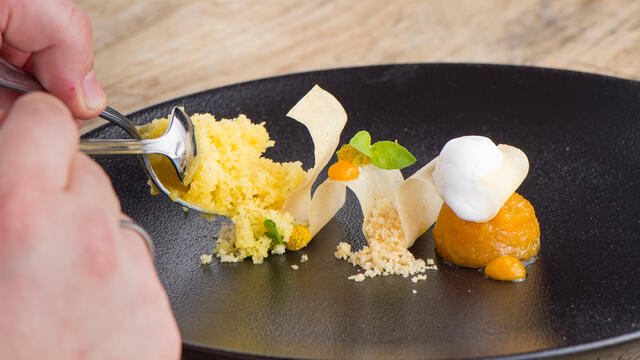 Orange, Assam pepper and Sechuan Button
Marcel Fischer's desserts at the Masters restaurant seem apparently simple in terms of recipes, but the desserts are given a special signature by the intellectual use of the cresses.
Ingredients
crispy from phyllo dough
cream pastry
Meringue
Sechuan Button®
Atsina® Cress
For the orange and pepper sorbet:
1 l fresh orange juice
3 dl sugar syrup
2 leaves of gelatin
3 cl Madagascar rum
10 g Assam pepper
20 g of glucose
For the pepper crumb:
300 g of butter
200 g of flour
100 g of sugar
1 egg
4 Sechuan Buttons
Assam pepper
For the orange gel:
1 l fresh orange juice
5 cl lemon juice
200 g of sugar
2 cl orange liqueur
10 g of agar
For the pepper espuma:
150 g of protein
130 g lime juice
15 g Assam pepper
14 cl sugar syrup
7 cl of sparkling water
For the orange marmalade:
6 organic oranges
100 g of jelly sugar
20 g orange chips
2 ml of orange oil
Method
Vacuum the sugar syrup and pepper for the sorbet and infuse warm for 2 days. Bring 3 dl of the orange juice to the boil with the rum and the sugar syrup.
Allow to cool to 55°C and dissolve the soaked gelatin and the glucose in it. Add the remaining part of the orange juice and freeze in frix or paco cups.
For the crumb, chop the Sechuan Button®, mix with the other ingredients to crumbs and bake in the oven at 160°C until golden brown. For the gel, bring all ingredients to a boil, allow to harden and blender until smooth.
For the espuma of the sugar syrup and pepper, make an IV. Beat the egg whites lightly and mix all ingredients, fill a siphon and aerate with 2 cartridges.
Use a zest for the peel of the oranges, cut the orange wedges and blanch the zest six times in freshwater. Mix the wedges and zest with the sugar and bring to a slow boil over 3 minutes.
Mix with the orange chips and the orange oil. Dress all the components on the plate, garnish with the cresses and the phyllo dough and add the crème patissière.
***
Spa & Golfresort Weimarerland
Weimarer Str.60 – Blankenhain
T  0049 3645961640
www.golfresort-weimarerland.de
Recipe: Marcel Fischer
Source: Pâtisserie & Desserts - 49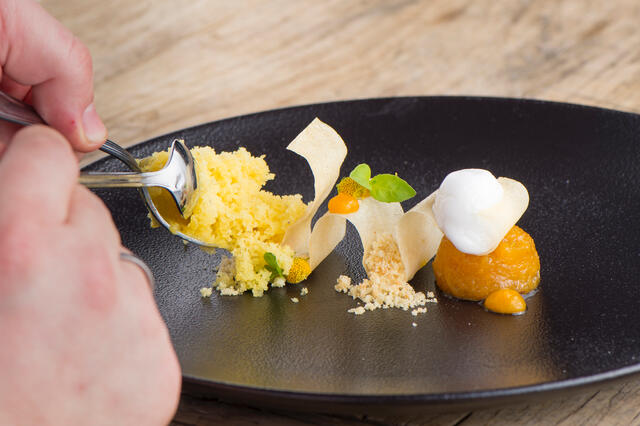 Related recipes
Gastronomical masterpieces
Related products
Say yes to the cress