Ingredients
(For 12 canapes)
1 punnet Zorri Cress
½ punnet Sakura Cress
50gr horseradish sauce
50gr cream cheese
12 small jersey potatoes
130gr/140gr sirloin of beef
3 tbsp rapeseed oil
10gr butter
Method
Cut to size and scoop out the inside of each potato using a Parisienne scoop. 
Lay them face down on a tissue paper to remove the excess of water. 
Pour 2 tbsp of rapeseed oil at the bottom of a small oven tray and heat the oil in the oven until very hot. 
Place each potato face down on top of the hot and cook sizzle for 5 to 8 minutes. 
Once cooked, remove from the tray, and leave aside. 
Cook the sirloin steak with the other spoon of olive oil and the butter to medium rare. 
Let rest and cut out 12 fine slices. 
Mix the horseradish sauce and cream cheese together and fill to 2 third each cavities of the jersey potatoes. 
Add the slices of beef and reheat slightly. 
Serve warm with the Sakura Cress and the Zorri Cress. 
Recipe: Franck Pontais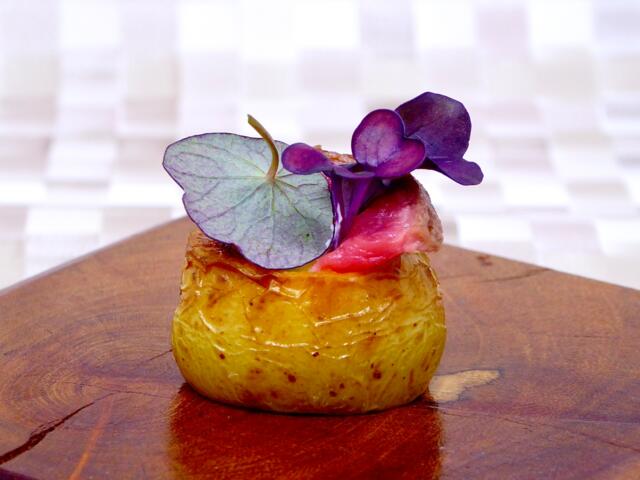 Related recipes
Gastronomical masterpieces
Related products
Say yes to the cress