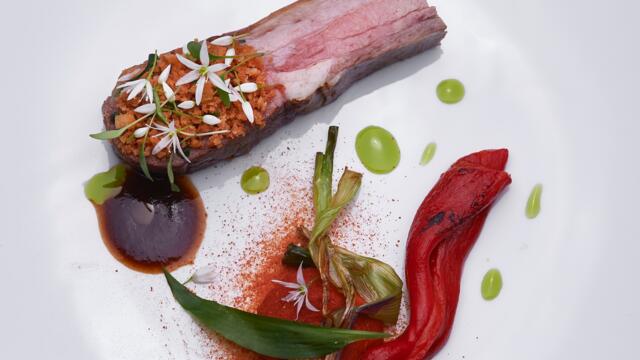 Sisteron lamb, red onion, sobrasada, natural gravy with udu pepper, Ghoa Cress
Sébastien: "The concentration of the flavors of each cress ensures that it is not confetti, but can be used to add extra dimensions to any kitchen."
Ingredients
lamb bacon
mini croutons
roasted pepper powder
wild garlic oil
Ghoa Cress®
For the saddle of lamb:
1 saddle of lamb
thyme butter
pepper
salt
For the gravy nature:
2 lamb stock
thyme
root
onion
garlic
Red wine
cognac
For the red onion and roasted pepper:
red bulb onion
broth of spices
pointed pepper
For the cream of sobrasada:
4 red peppers
200 g of sobrasada
2 sweet onions
Method
Parry the lamb saddle, but keep the fat on. Bake, under pressure, on the fat, roll through the thyme butter and cook in the oven at 150°C for 4 minutes.
For the gravy, chop the saddle, sear in some oil with the vegetables, deglaze with red wine and cognac and allow to evaporate completely.
Add the stock and reduce to 1/3. For the cream of sobrasada, braise everything, cook and mix.
Cook the bulb onion in the stock, burn the bell pepper and remove the skin. Place the lamb and bacon on the plate. Garnish the bacon with the croutons and the herbs.
Add a part of the saddle with the onion and pointed pepper. Spray the sobrasada cream and garnish with the other components and the Ghoa Cress®.
Finish with wild garlic oil.
***
Restaurant Ogst

Ridder Portmansstraat 4, Hasselt
Tel. 0032 11 41 38 13
www.ogst.be
Recipe: Sébastien Wygaerts
Source: Culinaire Saisonnier 89 - Summer 2018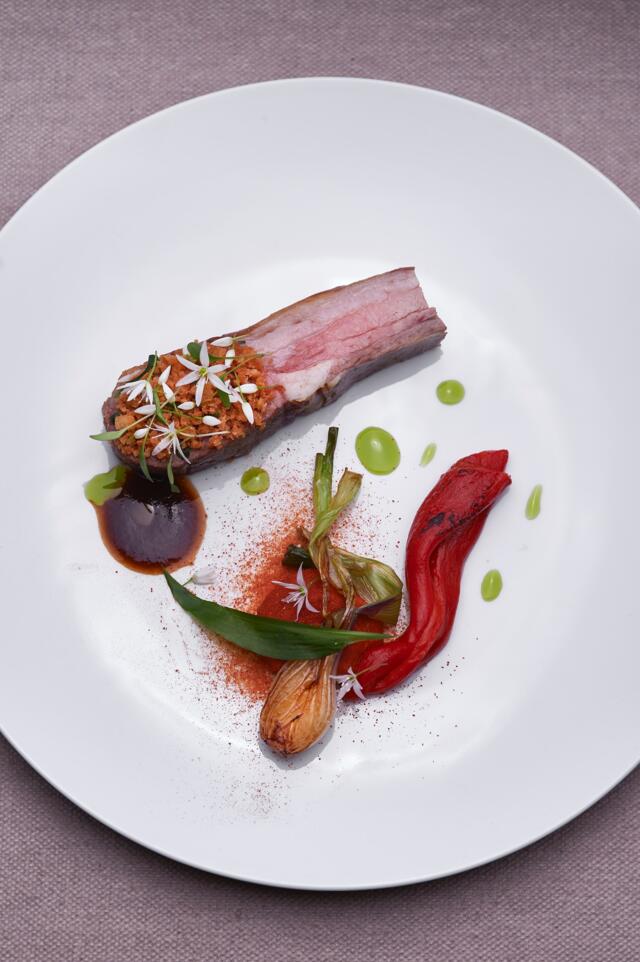 Related recipes
Gastronomical masterpieces
Related products
Say yes to the cress