Ingredients
(For 4 portions)
1 small celeriac
100 g fresh or frozen cranberries
1 pink grapefruit
A few branches of fresh rosemary
120 g dried cranberries
Gomasio classic Verstegen
cup of Ghoa Cress - Koppert Cress
Arqan argan oil
Strong dash of olive oil Iluigi
Black pepper mill Verstegen
Coarse sea salt mill Verstegen
Method
Celeriac:
Wash, dry and rub celeriac in with argan oil. Season with gomasio.
Place on the grill and turn regularly so that it cooks evenly.
Take a bunch of fresh rosemary.
Put some olive oil in a jar and dip the rosemary in it.
Then regularly rub in the celeriac on all sides.
The cooking of the celeriac can take up to 2 hours depending on the thickness of the celeriac.
Vinaigrette:
Stew the cranberries in some olive oil until they form a compote.
Now add some zest and juice of grapefruit.
Mix everything into a beautiful pink running vinaigrette.
Celeriac emulsion:
When celeriac is cooked, peel it off with a knife.
Cut 4 discs to place on the plates.
Cut the rest into blocks and mix it together with a pour of water, a good pour of olive oil, a sprig of finely chopped rosemary and sea salt to a smooth emulsion.
To finish off:
Place a warm wipe of emulsion on each plate.
Add a disc of cooked celeriac each time.
Divide some vinaigrette over the preparation.
Finish with some extra gomasio, dried cranberries and some sprigs of Ghoa Cress.
Recipe: Frank Fol - The Vegetables Chef®
Photo: Wim Demessemaekers, Photographer | @wim_dmskrs
Preparation time: 90-120 minutes 
Techniques: veggies 
Plate: Black Robust Plate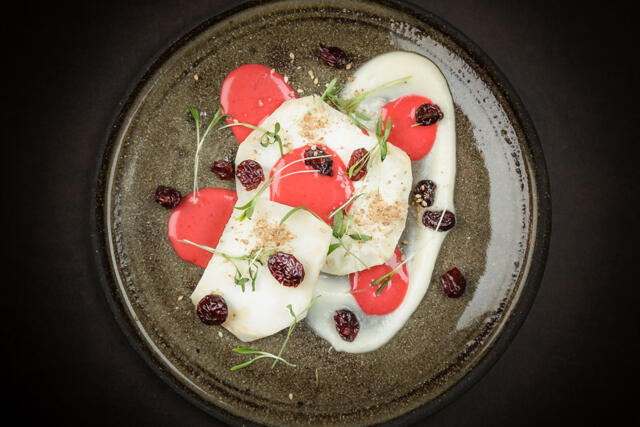 Related recipes
Gastronomical masterpieces
Related products
Say yes to the cress