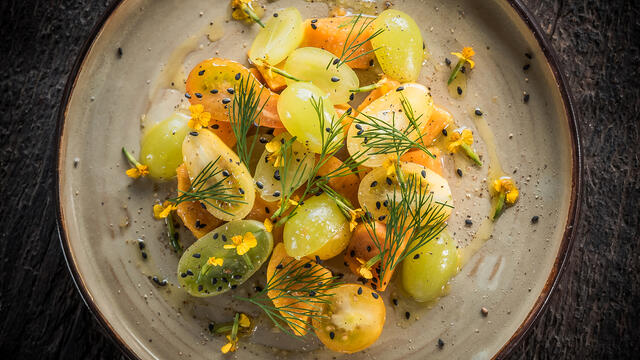 Salad of yellow grapes and sweet potato, black sesame, dill, lime, yellow cherry tomato and Anise Blossom
,
Frank Fol – The Vegetables Chef®
Ingredients
(For 4 portions)
2 sweet potatoes
A few sprigs of fresh dill
Small bunch of white grapes without seeds
Tray of yellow cherry tomatoes
El Flamenco olive oil
1 lime
Black sesame seeds
Black pepper from the mill Coarse sea salt
Anise Blossom
Method
Salad:
Peel the sweet potato, cut into cubes and cook in some salted water.
Eat off and leave to cool.
Cut the grapes and cherry tomatoes into two.
Season with sea salt, black pepper, olive oil and lime juice.
Mix everything and leave to marinate.
To finish off:
Place the salad mix on each plate.
Drizzle some olive oil over the preparation and sprinkle some sesame on top.
Finish with sprigs of fresh dill and some Anise Blossom flowers.
Recipe: Frank Fol - The Vegetables Chef®
Photo: Wim Demessemaekers, Photographer | @wim_dmskrs
Preparation time: 25 minutes
Techniques: boil, raw
Plate: Wild Moon dirty green plate
Recommended drink: White wine, Auxerrois - Valke Vleug wine estate, Scheldeland - Belgium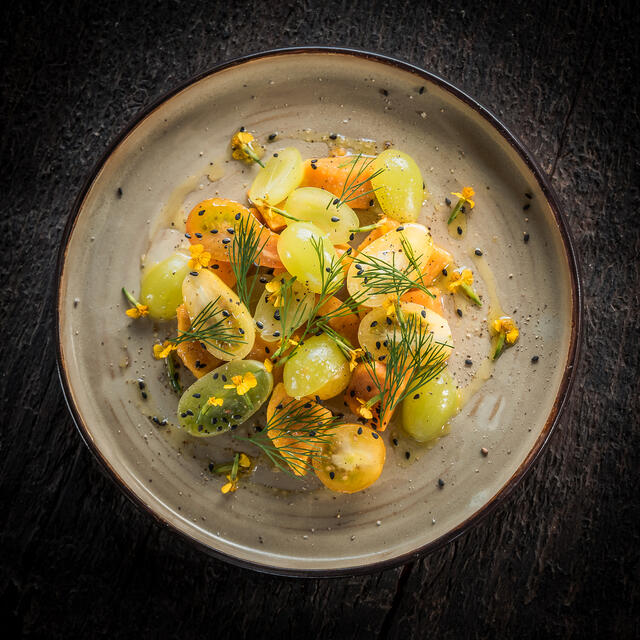 Related recipes
Gastronomical masterpieces
Related products
Say yes to the cress