Ingredients
(For 4 portions)
4 pieces cos lettuce 
8 pieces sundried tomato cut into strips  
sundried tomato oil   
120g puff pastry
12 pieces Salad Pea 
80g horseradish cream
2 medium pieces sprouting broccoli 
1 tbsp grapeseed oil  
1 pinch table salt
1 pinch white ground pepper   
Method
Cut the piece of sprouting broccoli sideways into two long pieces.
Cut the sundried tomato into fine strips.
Pour the grapeseed oil into a hot frying pan and sear the broccoli for a minute.
Cover with a tin foil and cook for 2 minutes more. Season, take out of the pan and keep aside.
Roll out the puff pastry and cut some strip out of the sheet.
Using a pastry metal tube and non-stick baking paper. Place each strip around each tube and bake in a hot oven until golden brown.
Once cooked, remove each puff pastry twist from each tube and let cool on a cooling rack.
Insert 5 pieces of salad pea in each twist.
To dress the plate, lay down the cos lettuce leaves, add the cooked broccoli on top.
Add the puff pastry twist with the Salad Pea, arrange the sundried tomato strip and pipe some dots of horseradish cream.
Add the last pieces of Salad Pea on top and finish with a drizzle of sundried tomato oil.
Recipe: Franck Pontais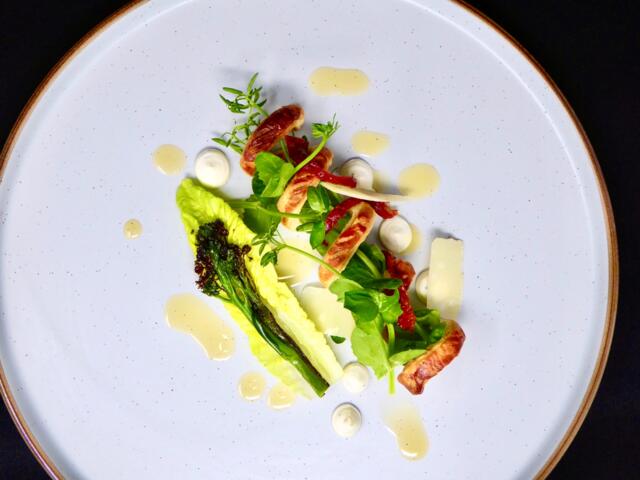 Related recipes
Gastronomical masterpieces
Related products
Say yes to the cress