Ingredients
(For 4 portions)
250 to 500 g of ripe strawberries
2 rhubarb sticks
1 lemon
cup of Paztizz Tops
drops of arqan argan oil
Method
Rhubarb:
Peel the rhubarb and cut it into wafer-thin slices (10 cm) with the help of a slicer. Place it in a bowl and add the lemon juice. Leave to marinate for a few minutes.
Sweets:
Wash the strawberries and remove the crown afterwards.
Roll each strawberry in a slice of rhubarb.
If necessary, pierce a wooden stick to keep everything together.
The sweet strawberry provides a nice counterbalance to the fresh sourness of the rhubarb.
To finish off:
Place the sweets in the bowls and finish with a few drops of argan oil and a sprig of paztizz tops on each candy.
Fantastic for hot days and with a glass of delicious rosé.
Recipe: Frank Fol - The Vegetables Chef®
Photo: Wim Demessemaekers, Photographer | @wim_dmskrs
Preparation time: 15 minutes 
Techniques: fruit
Plate: Black & Gold Bowl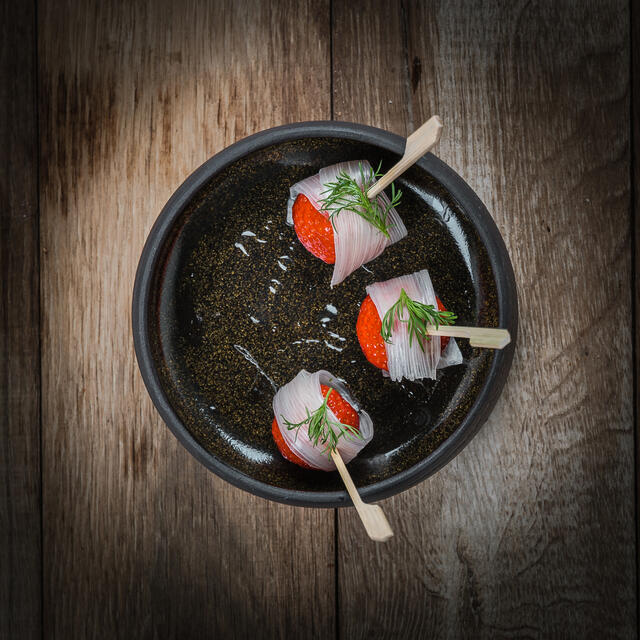 Related recipes
Gastronomical masterpieces
Related products
Say yes to the cress