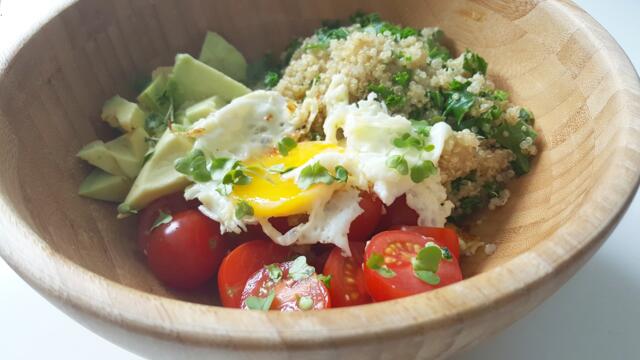 Superfood Breakfast Bowl with BroccoCress
Source: Boost Your Health
Do you really want a healthy and nutritious breakfast and do you have enough time to take it easy, then you have to make this delicious superfood breakfast bowl! It is tasty, healthy and packed with superfoods! What are you waiting for? Let's go!
Ingredients
This superbowl is sufficient for 1-2 persons:
250 grams of kale
125 grams of quinoa
1 half onion (I used a white onion, but if you want a bit spicier than a red onion)
10 cherry tomatoes
2 avocados
pinch of salt and pepper
1 tablespoon of pesto (you can also use vegetable yoghurt to make it creamier)
1 cup of BroccoCress®
a little extra virgin olive oil
1 teaspoon of coconut oil for baking
1 egg
Method
Cook the quinoa as stated on the package.
Briefly fry the onion in a pan.
Once the quinoa is ready, mix it with the kale and onion and add half a bowl of Brocco cress, the pesto, salt and pepper and some olive oil.
Cut the avocados and cherry tomatoes in small pieces.
Then fry an egg with some coconut oil.
Put the quinoa with the rest in a bowl, add the avocado and cherry tomatoes and add the delicious egg on top. 
Source: Boost Your Health 
Related recipes
Gastronomical masterpieces
Related products
Say yes to the cress