Ingredients and method
Drink ingredients:
1 on 1 Shiso Green syrup
1 on 1 protein foam
45 ml gin
30 ml Orangecello
15 ml syrup
30 ml lemon
3 dashes Angostura bitter
Drinking method:
Make a Shiso syrup by dissolving half and half sugar in water and then gently boiling a few Shiso Green Leaves.
Crush the Shiso Leaves in the pan to release extra flavor.
Use part of the syrup in combination with egg white (half and half) to make a protein foam in a whipped cream kidde.
Add the gin, Orangecello, lemon juice and the Shiso Green syrup to a shaker. Shake well with ice.
Filter the drink and pour into a tall pre-chilled glass. Leave room at the top for the foam.
Now add the egg white foam and garnish with three dashes of Angostura bitters and a sprig of Zallotti Blossom.
Bite ingredients:
avocado
watermelon
nori
Vene Cress
Scarlet Cress
Zorri Cress
Affilla Cress
Salty Fingers
soy sauce
Kaffir Lime Leaves powder
smoked paprika
yogurt
Zallotti Blossom
Bite method:
Cut the watermelon into cubes and mix with soy sauce to form a kind of tartar.
Put this in the oven at 200℃ for 10 minutes and add a 1/2 nori sheet.
Then let it cool.
Cut an avocado in half and remove the skin and stone.
Make a cream from one half.
Fill the other half with the watermelon/tartar and mix with avocado cream.
Make 2 stripes on the board:
1 stripe of smoked paprika powder
1 stripe of Kaffir Lime Leaves powder
Insert the cress into the avocado filling.
Garnish with the different nori pieces.
Recipe: Dik & Schil en Eric Miete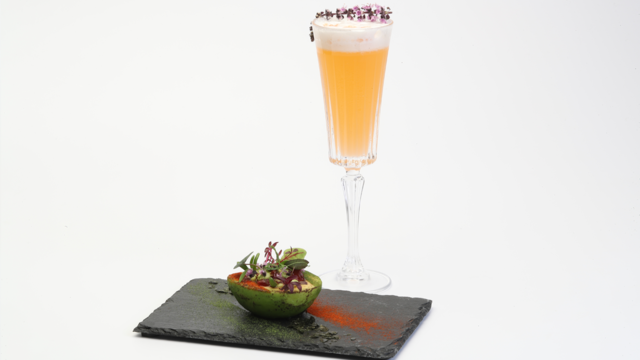 Related recipes
Gastronomical masterpieces
Related products
Say yes to the cress