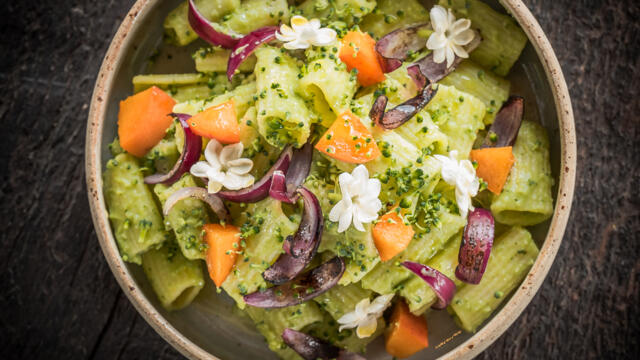 Tube pasta with broccoli pesto, lemon, raosted red onion, fresh apricot and Jasmine Blossom
,
Frank Fol – The Vegetables Chef®
Ingredients
(For 4 portions)
1 to 2 red onions
2 apricots
Fresh basil
1 lemon
40 gr Oud Brugge cheese
Fresh tube pasta
Pastaman 40 gr almonds (without peel)
1 small broccoli
El Flamenco olive oil
Black pepper from the mill
Coarse sea salt
Jasmine Blossom 
Method
Pesto:
Cut some raw broccoli crumble and keep until later. Thread other broccoli in salted water.
Then remove the broccoli, cool under cold running water and store the cooking juices.
Now mix broccoli with a handful of basil, grated cheese,
almond, olive oil, cooking liquid broccoli, sea salt and black pepper into a delicious liquid pesto.
Pasta:
Cook pasta in water with salt according to the indicated cooking time.
Drain and mix with the pesto and some lemon juice and lemon zest.
Garniture:
Seed apricots and cut into cubes.
Peel the red onion, cut the darts and place in a stainless steel dish. Then place them on a wooden plank and burn the onion with a Bunsen burner until they are lightly coloured everywhere.
By doing this, we cook them as well.
Now place a spoonful of creamy olive ice cream on each plate. Place some small lemon verbena leaves on top of the preparation. Finish with a few more drops of olive oil and freshly grated lemon zest.
To finish off:
Divide the hot pasta over the plates. Divide the apricot, the roasted onion and the broccoli crumble over the pasta.
Finish with some Jasmine Blossom.
Recipe: Frank Fol - The Vegetables Chef®
Photo: Wim Demessemaekers, Photographer | @wim_dmskrs
Preparation time: 20 minuten 
Techniques: sauce, roast, raw
Plate: Wild Moon wild white bowl
Recommended drink: White wine, Auxerrois - Valke Vleug wine estate, Scheldeland - Belgium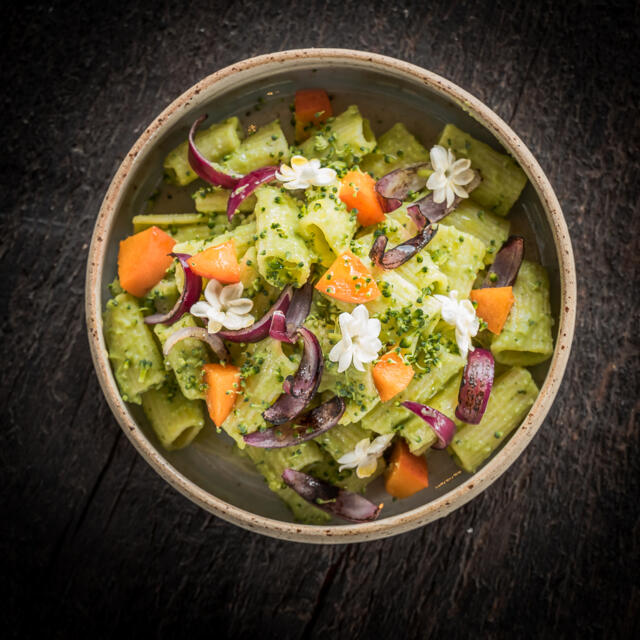 Related recipes
Gastronomical masterpieces
Related products
Say yes to the cress