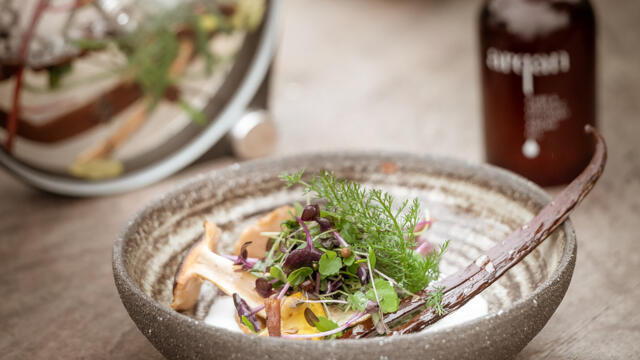 Vanilla mushroom
Mushroom trilogy, vanilla tomatoes, cress salad and argan oil, plus an electric shot.
Ingredients
Purple paint funnel:
100 g Amethzst deceiver laccaria amethystina mushroom
50 g lime string mushroom
40 g brown bonnet mushroom
50 g cedar nut oil
1 vanilla bean
1 cup of Tahoon Cress
purple cardamom, pounded
Maldon salt
crowberry, ground
Cress salad:
Sakura Cress
Melissa Cress
wild yarrow
Salad Pea
Gangnam Tops
Vanilla tomatoes
3 kinds of date tomatoes
mark from the vanilla bean
ARQAN argan oil
Passion Fruit Dressing:
1 passion fruit
agave syrup
Maldon salt
olive oil
crowberry, ground
voatsiperifery pepper
Buffalo yogurt:
50 g buffalo yogurt
juice of one lime
Maldon salt
ARQAN argan oil
Electric shot:
200 ml Electric Gin by Faradai
50 ml of Cointreau
1 vanilla bean
5 pieces of green cardamom
1 sprig of raspberry
7 Arabica coffee beans
2 sprigs of lavender green
1 sprig of rosewood
Method
Purple paint funnel:
Halve the vanilla and separate from the pulp, fry the vanilla pod with Tahoon Cress in cedar nut oil as soon as the skin turns woody red. Fry the mushrooms in it and season.
Cress salad:
Pluck all ingredients into just pieces and mix them together.
Passion Fruit Dressing:
Halve the passion fruit, season well and stir vigorously with the spoon handle until everything loosens from the skin. Refine the salad with it.
Buffalo yogurt:
Mix all ingredients together and season to taste.
Electric shot:
Store everything in a cool place in the porthole for at least 7 days. Serve as a 2cl shot in front of the vanilla mushroom.
Recipe: ARQAN Wild Cooking – Signature Dish III by Spicehunter® Marcel Thiele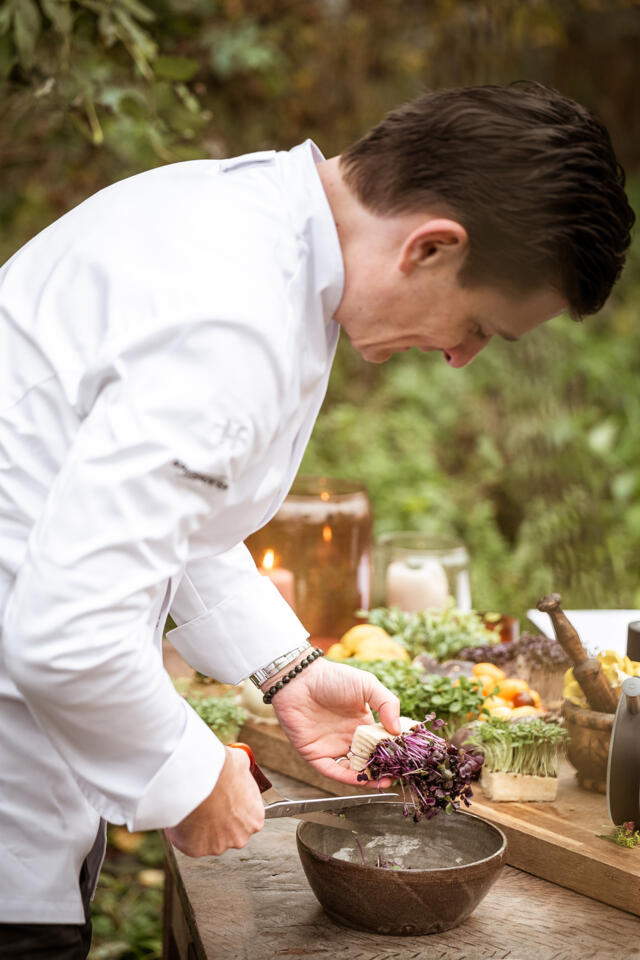 Related recipes
Gastronomical masterpieces
Related products
Say yes to the cress