Ingredients
(For 4 - 6 portions)
Crust:
100gr pecan nuts or chopped hazelnuts
40gr shredded coconut
30gr cacao nibs
20gr cacao powder
100gr pitted dates
1 tbsp coconut oil
Filling:
3 pieces Jasmine Blossom
15 Yka Leaves
½ punnet of Melissa Cress
400gr (3 - 4 medium) avocado
juice from 1 lime
50ml water
2gr agar agar
90gr maple syrup
40gr coconut oil
Melissa Cress sugar: 
2 punnets Melissa Cress
200gr caster sugar
Method
Crust:
Using a mixer, Blend all the ingredients together. 
Lay the paste flat at the bottom of a tart ring on a non-stick baking paper and let set in a cool place for at least 30 minutes. 
Filling:
Pour the water, lime juice, maple syrup and coconut oil in a small saucepan with the agar agar. 
Bring to boil for 2 minutes, whisking all the time. 
Let the mixture cool down a little. 
Blend the avocado flesh in a mixer until smooth and add the slightly cooled lime juice and syrup mixture while blending. 
Pour the avocado filling in the tart base and fill the tart. 
Level up with a spatula and let set in a cool place or fridge for a couple of hours. 
Remove the tart ring and finish with the Melissa Cress, Jasmine Blossom and rolled up Yka Leaves. Serve with a sprinkle of Melissa Cress sugar. 
Melissa Cress sugar: 
Blitz together 2 punnets of Melissa Cress with 200gr of caster sugar. 
Dry the Melissa Cress paste in a dehydrator machine and blitz again to make to sugar.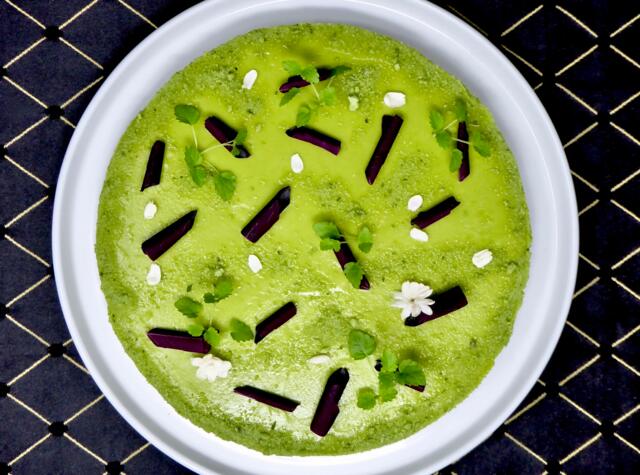 Related recipes
Gastronomical masterpieces
Related products
Say yes to the cress