Ingredients
(for 20 tortelloni)
For the pasta dough:
250g 00 pasta flour 
2 egg yolks 
1 whole egg
2 tbsp Zorri Cress pulp 
1 tbsp Zorri Cress oil
For the filling:
400g chestnut mushroom 
2 tbsp Zorri Cress pulp  
2 tbsp Zorri Cress oil
60g mascarpone 
3 punnets Zorri Cress
Egg wash                               
Method
For the pasta dough; In a food processor blend the flour whilst adding the egg yolks and egg one at a time. Add the Zorri Cress pulp and the Zorri Cress oil pulsing until the dough has come together.
 
Pour out onto a lightly floured surface and begin to knead the dough.
 
Once the dough has become smooth (after about 5 minutes) wrap in clingfilm and store in the fridge to rest (1 hour).
 
Meanwhile, make the filling by pulsing the mushrooms in the food processor until they are chopped but not pureed. 
 
Cook the mixture in the Zorri Cress oil for about 20 minutes until the mixture has cooked down and much of the moisture has evaporated.
 
Leave to cool slightly, then stir in the Zorri Cress pulp together with the mascarpone and 3 punnets of Zorri Cress finely chopped. Season mixture and spoon into a piping bag.
 
Take the pasta dough out of the fridge and leave at room temperature for about 30 minutes until slightly softened.
 
Begin rolling out starting with a rolling pin, then through a floured pasta machine, starting at the widest setting. Pass through each setting twice then fold pasta in on itself back into a rectangle ready to begin the process again. Repeat the process twice.
 
With the long sheet of pasta, begin piping cylinders of the filling about ¾ inch long with an inch and a half gap between each. Brush egg wash above and in-between each piped filling. Fold over the whole sheet of pasta and squeeze out all of the air creating a tight seal both above and in between each piped filling.
 
Cut along the top of each piece of the pasta and in between ensuring there is enough left in order to crimp each pasta closed. Shape into tortelloni shape. 
 
Cook in boiling water for 2 minutes or in a steamer for 5 minutes.
Recipe: Jacques Cresser Brown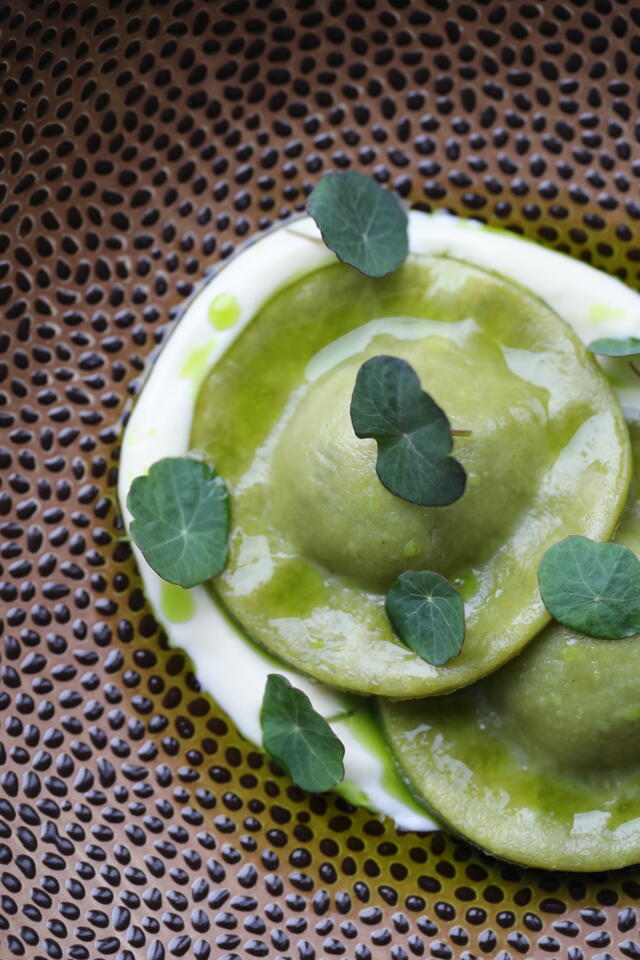 Related recipes
Gastronomical masterpieces
Related products
Say yes to the cress