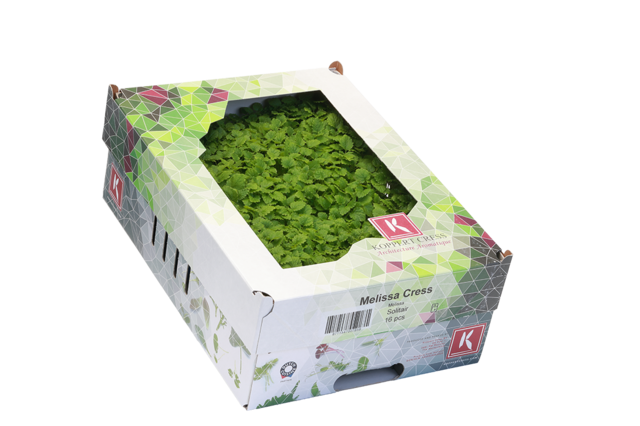 Welcome Melissa Cress!
Koppert Cress introduces Melissa Cress!
Koppert Cress introduces Melissa Cress! Melissa Cress is a beautiful aromatic blend of mint flavour and has, when crushed, a subtle lemon fragrance reminiscent of lemon zest. Use in combination with sweet products such as crustaceans, molluscs and white fish, vegetables such as pumpkin, sweet potato, fennel, citrus & sour apple. Also suitable for Asian-related dishes and in combination with heavy flavours such as lamb, cheese or game. Melissa Cress is a useful ingredient to add flavour & aroma to (sparkling) water or beverages.
Melissa Cress is the young seedling of Melissa officinalis. The botanical name Melissa is derived from the Latin word for bee, due to the lavish amount of nectar found within its flowers. The species is native in Southern Europe and the Mediterranean to Central Asia, but has spread as an alien species throughout the rest of the world. This plant is also called lemon balm or more commonly balm mint. It is a perennial herbaceous plant and part of the mint family. The leaves of the fully-grown plant have a mild lemon scent similar to mint.
Gerelateerde nieuwsberichten
Ook interessant