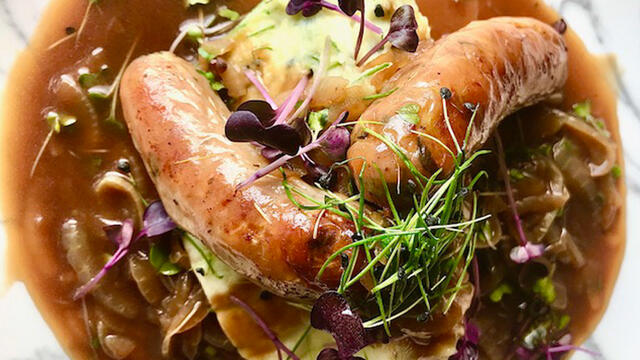 Bangers and Mash
,
4 portions
A classic from the United Kingdom
Ingredients
For the sausage and mash
Leek and pork sausages 8 pieces
Rock Chives 1 punnet
Sakura Cress ½ punnet
Classic mash potatoes 750g to 850g
Unsalted butter 50g
Beef gravy 500ml           
For the beef and onion gravy
Butter unsalted 40g
BroccoCress ½ punnet
Medium onions (finely sliced) 1 piece
Beef stock 300ml
Red wine 100ml
Plain flour 1tbsp
Seasoning (salt and pepper)
Method
Cook the sausages in an oven at 160C for 35 to 40 minutes.
For the gravy, heat the butter and a large frying pan, add the finely sliced onions and cook gently for 10 to 15 minutes or until the onion is soft and lightly caramelized.
Sprinkle the flour over the onion, stir and cook for 1 minute, gradually stir in the wine and the stock (hot stock).
Bring to the boil and reduce the heat, leave to simmer gently until thickened and add the grossly chopped BroccoCress at the last minute, just before serving.
Reheat the mash with the 50g of butter, add ½ punnet of chopped Rock Chives and fold in gently, serve immediately.
Dress the plate, mash at the center, add the sausages on top and pour the gravy on top of the sausages and all around.
Add the rest of the Rock Chives and a few leaves of Sakura Cress.
Enjoy!
PS: you can also use Daikon Cress instead of BroccoCress
Related recipes
Gastronomical masterpieces
Related products
Say yes to the cress