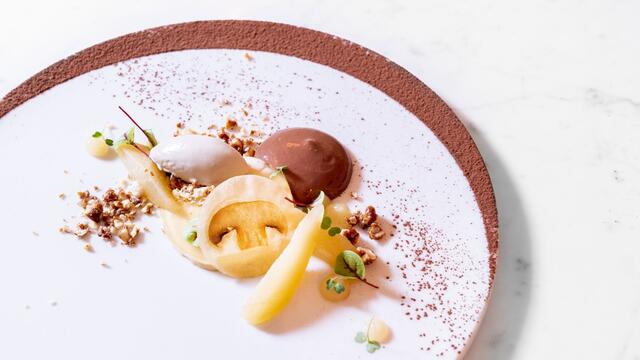 Caramel cream, mushroom ice cream, chocolate espuma, Vene Cress, BroccoCress
In the Grand Duchy of Luxembourg, we are impressed by the way in which the dishes find their balance on the plate.
Ingredients
Vene Cress
BroccoCress
caramelized hazelnuts
cacaopowder
For the caramel cream:​
100 g of sugar
50 g of water
150 g of cream
300 g almond milk
1 g of agar
4 eggs
For the mushroom ice cream:​
100 g mushroom puree
300 g of milk
100 g of cream
100 g egg yolk
50 g of sugar
For the candied pears:​
2 pears
4 dl Marsanne white wine
50 g of sugar
For the espuma:​
125 g almond milk
100 g of cream
17 g dark chocolate
15 g of sugar
2 g of vegetable gelatin
Method
Prepare a caramel with the water and sugar, deglaze with the almond milk and cream, add the agar and cook for 2 minutes. Remove from the heat, add the eggs, cook to 80°C and pour into rings. Store in the refrigerator. For the ice cream, bring the milk, cream and mushroom puree to a boil. Beat the yolks with the sugar, pour the warm mixture on top, let it cool, pass through a sieve and turbine. Peel the pears and cut into quarters.
Heat the wine with the sugar and put the pear quarters in it. Cover with a sheet of waxed paper and allow to simmer slowly on the fire. For the espuma, boil the cream, milk, sugar and gelatin, pour on the chocolate and emulsify. Pour into a siphon, aerate with 1 gas cartridge and keep warm in a bain-marie. Carefully decorate the caramel cream on the plate and add 2 pieces of pear and a quenelle of ice cream. Garnish with hazelnuts, cocoa powder and Vene Cress and BroccoCress. Finish with the warm espuma.
***
Two6two
Route D 'Arlon 262 – Strassen
T  00352 621 213 208
http://www.two6two.lu/
Recipe: Baptiste Heugens
Source: Pâtisserie & Desserts - 56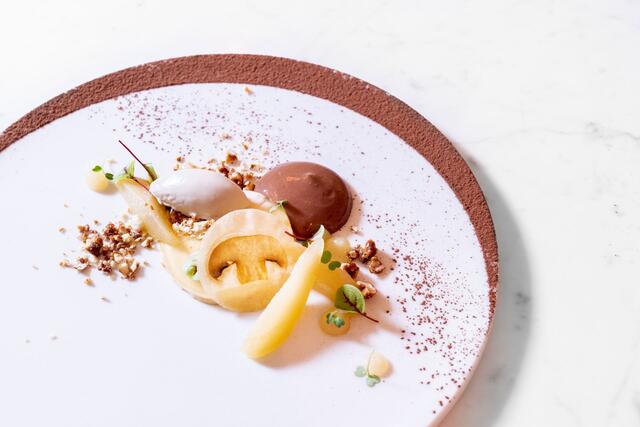 Related products
Say yes to the cress