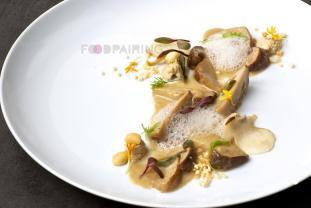 Porcino Nero Pairing with Peanut, Coconut, Green Tea and Duck Liver
,
Foodpairing
Ingredients
300 g Porcino nero2 pieces minced scallion
1 piece minced garlic
400 ml coconut cream
salt and pepper
Q.S Olive oil
500 ml still water
200 ml infused green tea
8 grams Soy Lecitin
0.7 grams Xantana gum
100 grams foie gras of duck
50 ml cream
Q.S still water
salt and pepper
50 grams roasted peanuts
Cress Mix
Usually served raw or simply grilled, the Porcino nero is one of the most appreciated wild mushrooms we can find in Mediterranean areas because of its intense aroma. Cooked gently in coconut milk that retains all of its roasted fragrance, this porcine nero pairing highlights its strong wild mushroom flavour.
Porcino nero coconut ragoût
Clean the porcino nero with a humid towel and cut it in quarters. Cook the scallion and the garlic with a little bit of olive oil until tender. Add the porcino nero and let it cook for 5 minutes or until they have a beautiful golden colour. Then, add the coconut cream and wait for it to start boiling. Turn the heat down and let it cook for 10 minutes or until you get a nice creamy consistency.
Green tea air
500 ml still water
200 ml infused green tea
8 grams Soy Lecitin
0.7 grams Xantana gum
Mix all the ingredients together and start introducing air bubbles with the help of a hand mixer. Once you get enough of the air bubbles, let the preparation rest for at least 10 minutes so the liquid separates from the dry green tea air.
Garnish
Sauté the foie gras of duck on both sides until you get a nice golden brown colour. Set aside to let it cool to room temperature. Then, mix it with the cream until you get a soft pure. Add water if needed. Sieve the preparation, add salt and pepper to taste and introduce it in a pastry bag. Crush half of the peanuts and select some cresses to finish of the plate.
SOURCE: FOODPARING
Related recipes
Gastronomical masterpieces
Related products
Say yes to the cress