Ingredients
(For 4 portions)
2 punnets Chilli Cress
24 white asparagus
350gr puff pastry
1 egg yolk
400ml milk
50gr butter
50gr flour
60gr gorgonzola cheese
4 small pinches crack black pepper
1 pinch white ground pepper
1 pinch fine sea salt
Method
Dilute the egg yolk with one tbsp of water and I pinch of sea salt, keep aside.
Roll the puff pastry and using a round cutter, cut out 4 circles.
Slightly press down with a smaller cutter in the middle of each circle, brush with the egg yolk and cook the puff pastry case in an oven at 220°C for 15 to 20 minutes. Let cool down on a rack once cooked.
Blanch/cook the white asparagus in salty boiling water and refresh.
Cut the tips to one third of the length and slice the rest of the asparagus.
Make a roux with the butter and flour and add the milk, let it cook until thicken (keep whisking) and add 60 gr of gorgonzola cheese toward the end.
Fold gently into the thick sauce, one punnet of freshly cut and chopped Chilli Cress and the sliced asparagus.
Fill the puff pastry case, arrange the asparagus tips in each case.
Serve hot with a piece of gorgonzola, the rest of the Chilli Cress and a little pinch of crack black pepper.
Recipe: Franck Pontais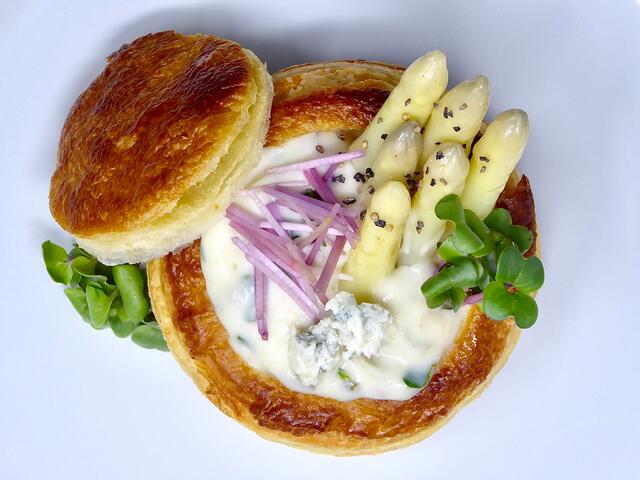 Related recipes
Gastronomical masterpieces
Related products
Say yes to the cress