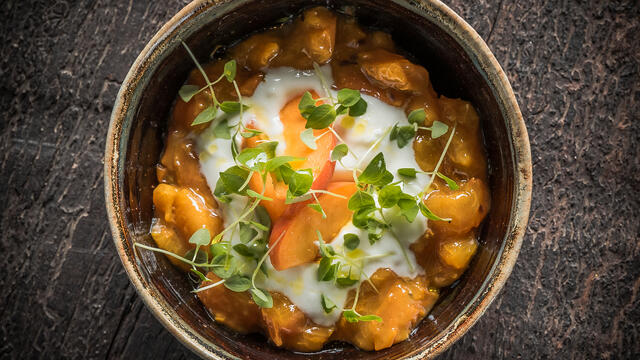 Apricot marmalade with lavender, fresh yogurt, olive oil and Limon Cress
,
Frank Fol – The Vegetables Chef®
Ingredients
(For 4 portions)
8 ripe apricots 
Sprigs of fresh lavender 
1 cup of Limon Cress
Olive oil El Flamenco 
1 pot of Fresh yoghurt - Hollebeek Hoeve 
1 liter of water of your choice 
Method
Marmalade: 
Cut 7 apricots into 2, pitted and cut into large pieces. 
Slowly stew under the lid with a few lavender flowers 
Stir occasionally so that they do not burn until they form a nice unsweetened creamy marmalade. 
Lavender water: 
Place a few sprigs of lavender with flower lace in a carafe of ice-cold water. 
Leave to marinate and pour as a fresh drink with the preparation. 
Finish: 
Divide the marmalade over the 4 plates. 
Place a sturdy spoonful of yogurt in the center. 
Cut the 8th apricot into slices and divide on the yoghurt on the 4 plates. 
Cut the cresses and place over the preparation. 
Finish with a few more drops of fine olive oil. 
Recipe: Frank Fol - The Vegetables Chef®
Photo: Wim Demessemaekers, Photographer | @wim_dmskrs
Preparation time: 15 minutes 
Techniques: raw, stewing, marmalade, marinating 
Plate: Wild Moon small ceramic bowl 
Recommended drink: Lavender-scented water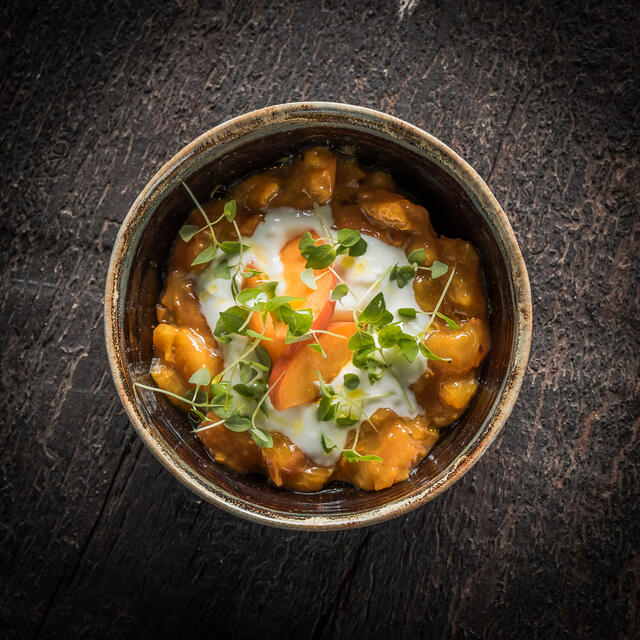 Related recipes
Gastronomical masterpieces
Related products
Say yes to the cress