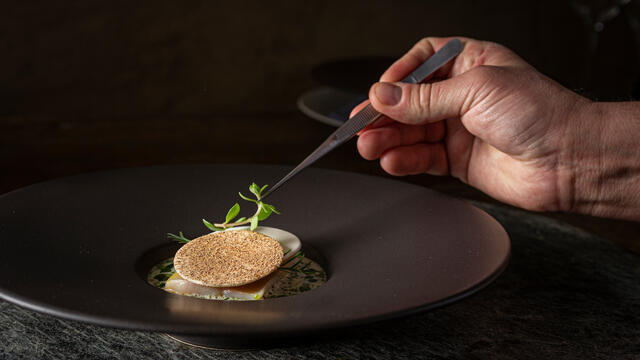 Bavarian trout cooked in rapeseed oil, lentils, mushrooms, herbs and whey
Located in the beautiful, stately historic hotel Bayerische Hof dating from 1841, not far from Munich's historic old town, one can find the gastronomic gem of the city: Restaurant Atelier.
Ingredients
20 g char caviar per plate
Gangnam Tops from Koppert Cress
Paztizz Tops from Koppert Cress
1 tsp chopped herbs per plate consisting of dill
chives
dragon
chive oil
For the trout:
10 pieces of trout fillet of 50 g each
1 l rapeseed oil
salt
lime zest
For the lentils:
100 g of red lentils
1 shallot in small brunoise
20 g apple in brunoise
20 g celery in brunoise
chopped chervil
White wine
poultry stock
White wine vinegar
vegetable oil
salt
pepper
For the mushroom cream sauce:
500 g mushrooms
butter
salt
pepper
old balsamic vinegar (9 years)
Madeira
For the raw mushroom slices:
5 large mushrooms
20 sheets of phyllo dough
1 tbsp mushroom powder
For the whey juice:
1 l whey juice
50 g of butter
salt
lime juice
1 tbsp rapeseed oil
Method
Heat the trout fillets in rapeseed oil at 48°C until translucent, drain on a cloth and season with a bit of salt and lime zest.
Sweat the lentils and shallot in oil and deglaze with a little white wine. Add some poultry stock and cook until al dente.
Then add the brunoises of apple and celery, stir well and season with chervil, vinegar, salt and pepper.
Clean the mushrooms and cut them into thin slices. Keep the leftovers of the mushrooms aside and put them in the dehydrator. Then make this into a fine powder.
Gently sweat the mushroom slices in a little butter, sprinkle with some salt and pepper and continue cooking until soft.
Reduce the mushroom moisture and mix together with the mushrooms in the thermomixer to a smooth cream.
Season with balsamic vinegar and some Madeira and, if necessary, season even more with salt and pepper.
Cut the mushrooms into thin slices with a diameter of a few centimetres and cut the phyllo dough into round slices of the same size as the mushrooms.
Bake the phyllo dough until crisp and let it cool. Sprinkle the mushroom slices per plate with the mushroom powder and place them on the slices of phyllo dough.
Dress two slices per plate. Reduce the whey to 3 dl, mix with the remaining ingredients to make a slightly sour sauce, cool, then add the other ingredients.
Spoon the lentils in the centre of the plate and place the trout on top.
Spoon some mushroom cream on the trout and garnish with the mushroom slices.
Decorate with the cresses and pour the stock of caviar, herbs and the chive oil all around.
Recipe: Jan Hartwig, Restaurant Atelier
Source: Culinaire Saisonnier 96 - Spring 2020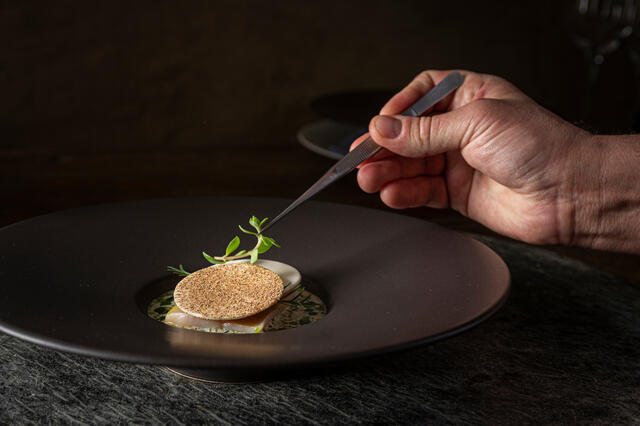 Related recipes
Gastronomical masterpieces
Related products
Say yes to the cress