Ingredients
50 g Beluga lentils
sea salt 
cumin, tasmanian black pepper 
Shiso Purple Vinegar 
2 Kaffir Lime Leaves 
aceto balsamico di modena 
20 ml reduced beetroot juice 
raspberries 
50 g cashew nuts 
5 g yeast 
lime juice 
100 g potatoes boiled  
50 g pineapple  
1 g agar agar 
ground cumin 
Vene Cress  
Borage Cress  
Kyona Mustard Cress  
Anise Blossom 
Method
Wash the lentils with water and keep in salted water for 10 hours. Boil afterwards with cumin and Kaffir Lime Leaves. 
Mix it up with aceto balsamico di modena, the reduced beetroot juice and flavor with tasmanian black pepper. Mix it together with the raspberries to a salad.

Boil cashew nuts in saltwater and add the yeast together with  lime juice in it, Then start a classic yoghurt preparation and mix it gently into a soft creme.
Potato/pineapple dip:
Cook pineapple with agar agar and blend together with the boiled potato and finish with ground cumin. 
Serve with Shiso Bread (click here for recipe) together with Vene Cress, Borage Cress, Kyona Mustard Cress  and Anise Blossom. 
Recipe: Marcel Thiele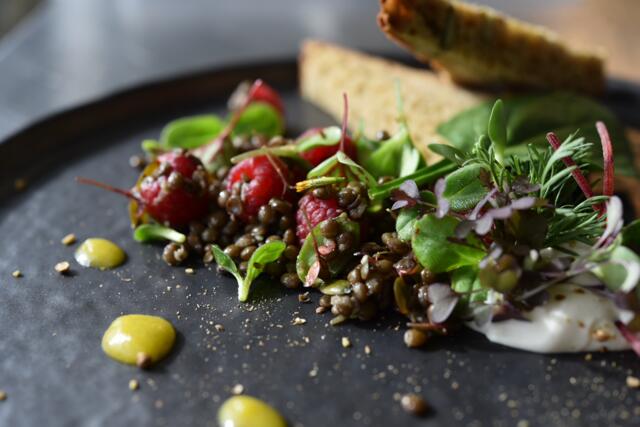 Related recipes
Gastronomical masterpieces
Related products
Say yes to the cress