Ingredients
100 grams of potatoes 
30 ml cream 
salt and pepper 
20 grams of butter 
4 king trumpet mushrooms 
olive oil 
Bergamot Sake Pearls 
Gangnam Tops 
Kyona Mustard
Method
Pour cream into a large bowl. Peel potatoes. Trim all sides of one potato to make a rectangular shape and slice them into very thin slices. Toss potato slices in cream occasionally to keep them from oxidizing.  
Line a rectangular baking form with parchment paper, layer the potato slices seasoning each layer with salt, pepper, and cubes of butter until pan is filled. Fold sides of parchment paper over potatoes.  
Bake until potatoes are completely tender when pierced with the tip of a sharp knife, about 1 hour and 50 minutes at 200°C. Remove from oven and let cool for 15 minutes. Cover with a board and place some weights (such as a couple of cans) and let it stand overnight at 2-5°C.   
For the dish: 
Cut potatoes in cubes and fry in a pan with some olive oil.  
For the mushrooms:
Fry King Trumpet mushrooms in a pan with a few drops of Tomato Balsamico Vinegar (from www.yanasteudel.com).
Recipe: Dr. Yana Steudel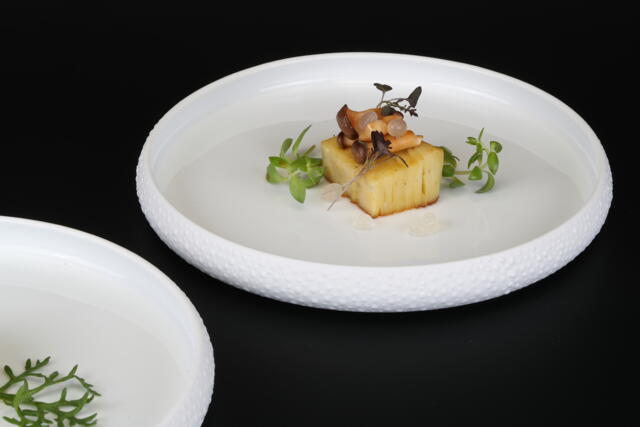 Related recipes
Gastronomical masterpieces
Related products
Say yes to the cress