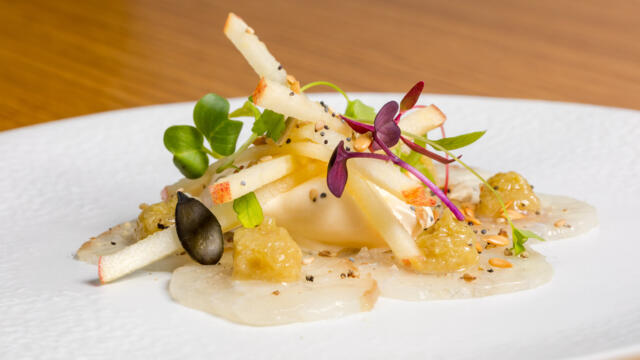 Sea bass carpaccio
Source: Culinaire Saisonnier
Sea bass carpaccio, rhubarb, apple and smoked cod egg ice cream.
Ingredients
6 fresh eggs
hand-peeled gray shrimps
Sakura Cress
Motti Cress
Daikon Cress
pepper
salt
For the herb gravy:
1/2 bunch of chives
1/2 bunch of flat-leaf parsley
4 sprigs of cilantro
2 dl white wine
For the puree:
500 g Belle de Fontenay potatoes
coarse sea salt
1 dl cream
For the bisque:
2 fennels
2 leeks
1/2 celery
6 tomatoes
1 can of tomato paste
2 dl ricard
5 dl white wine
1 kg of shrimp heads
Verstegen freeze-dried thyme
Verstegen bay leaf
Verstegen star anise
butter
Method
Finely blend the herbs with some white wine. Pass through a sieve and beat a sabayon with the juice and 2 egg yolks in a bain-marie. Season with salt and pepper. Rinse the potato and cook with sea salt in the oven at 200°C. Peel the cooked potatoes and rub through a fine sieve. Finish the crumb with the warm cream, salt and pepper. For the bisque, sauté the chopped vegetables and shrimp heads and add the tomatoes and tomato paste. Deglaze with white wine and ricard and add herbs and spices. Bring to a boil and let the flavors infuse. Pass through a fine sieve and reduce to desired thickness. Poach the eggs in water with salt and a dash of vinegar. Serve the eggs on a bed of puree, sprinkle generously with the prawns and finish with the herb gravy, bisque and cress.
Source: Culinaire Saisonnier
Photographer: Bart Tanghe
In collaboration with: Verstegen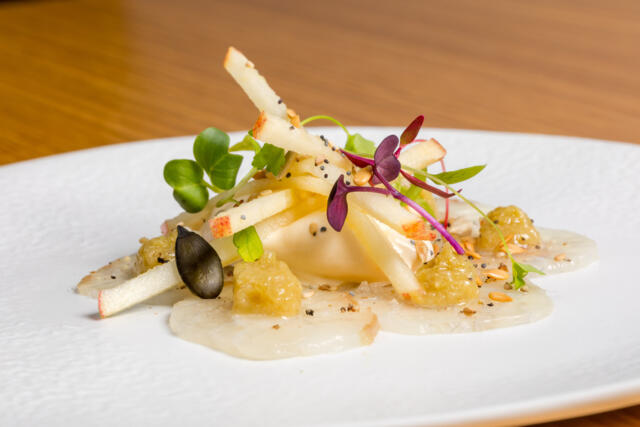 Related recipes
Gastronomical masterpieces
Related products
Say yes to the cress