Ingredients
For 4 portions
12 pieces Hippo Tops
80g Salad Pea  
2tbsp olive oil 
lemon juice (½ lemon)
4 pinches paprika 
1 punnet Motti Cress 
80g risotto arborio rice 
46g cooked chickpea
40g frozen fresh peas
80g hummus 
Method
Rice crackers:
Cook the rice in a clear vegetable stock and blitz it in a high-speed blender. 
Spread evenly a fine layer of the mix/paste on a non-stick baking paper and cook in a preheated oven at 220°C for 4 to 6 minutes. 
Let cool down and break into large pieces. 
Salad:
Make a little emulsion with the lemon juice and olive oil. 
Toss the Salad Pea, Hippo Tops and Motti Cress in the emulsion. 
Serve with the rice cracker, hummus, cooked peas, chickpeas, and ta dust of paprika.
Recipe: Franck Pontais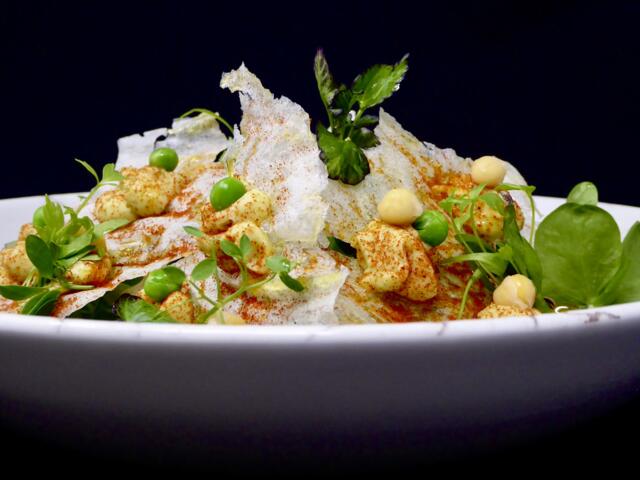 Related recipes
Gastronomical masterpieces
Related products
Say yes to the cress