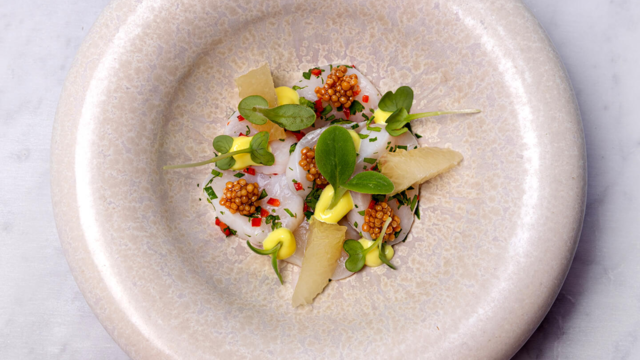 Ceviche of scallops with citrus segments, vadouvre cream and mustard seed
,
Salt-conscious three-course Christmas menu
Ingredients for 10 people
Ingredients raw marinated scallops
30 scallops
125 grams of lime juice
2.5 tsp. red chili pepper, finely chopped
2.5 tsp. coriander, chopped
250 ml. olive oil
Ingredients vadouvan cream
27 g protein
54 g yogurt
161 ml. neutral oil
Ingredients hydrochloric acid mustard seed
88 grams of mustard seeds
88 grams of sushi vinegar
132 grams of water
Other Ingredients
White grapefruit segments
Borage Cress
Daikon Cress
Method
Work method marinated scallops
Open the shells and remove the nut, the white meat, from the shell.
Rinse the nuts under cold running water for 5 minutes.
Pat the nuts thoroughly dry with kitchen paper.
Cut the nuts into thin slices. If necessary, crush them lightly between butcher's foil.
Divide among plates and marinate with red pepe r, lime juice and cilantro and let soak for about 15 minutes.
Season with zest of lime and drizzle with some olive oil.
Method vadouvan cream
Myotize the vadouvan in the oil.
Remove from heat and pour in the remaining oil.
Allow to infuse for 12 hours at room temperature.
Pass the oil through a micro sieve.
Put the egg whites together with the yogurt in a measuring cup.
Mix with a hand blender until homogeneous.
Add the oil drop by drop until a firm cream forms.
Transfer to a spout bag or spray bottle.
Store in the refrigerator until use.
Method sweet and sour mustard seed
Mix all ingredients together in a suitable saucepan.
Bring to a boil and reduce heat to low.
Simmer gently until the seeds are soft.
Store in a tightly sealed container or jar.
Total amount of salt: 0.64 grams per person
Link to dish
Recept: Gastronomixs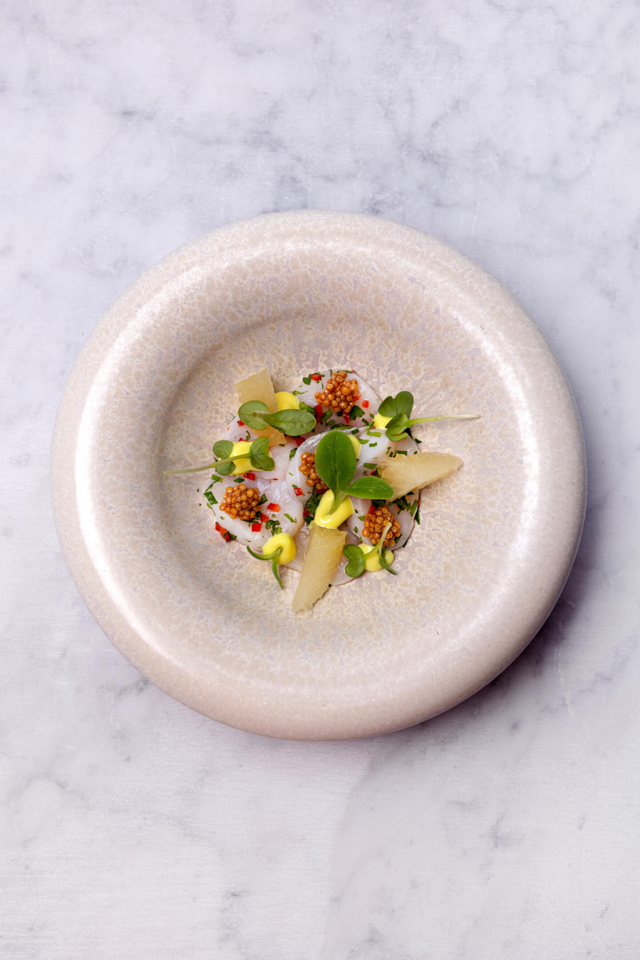 Related recipes
Gastronomical masterpieces
Related products
Say yes to the cress