Ingredients
5g Dushi Buttons 
3g Jasmine Blossom 
Coffee cake: 
60g sugar
100g maple syrup
90g oil
60g egg
140g wheat flour
3g baking soda
100g strong coffee
1g salt
Black pepper
Fennel pollen
Coffee chocolate mousse: 
75g dark chocolate 55%
6g sugar
25g pasteurized whole eggs
125g whipping cream
1g gelatine
1g instant coffee
Coffee chocolate crumble: 
40g dark chocolate 55%
40g sugar
20g water
Coffee syrup: 
50g strong coffee
50g sugar 
Method
Coffee cake: 
Put sugar and syrup in a bowl and stir it together. 
Add the oil little by little while stirring constantly. 
Add the eggs one at a time, stirring constantly. 
Put black pepper and fennel pollen in a spice grinder and blend to a fine powder 
Mix wheat flour, baking soda and salt together. 
Add the flour mixture a little at a time along with the hot water. (the dough must be thin) 
Put the dough in greased baking tins shaped like domes. 
Bake the spice cakes at 185℃ for 20-25 minutes. 
Cool the cakes and turn them out of the moulds. 
Hollow out the spice cakes at the bottom. 
Coffee-chocolate mousse: 
Melt the chocolate over a water bath. 
Stir instant coffee into the cream and whip it to whipped cream. 
Beat eggs and sugar white and fluffy. 
Soak the houseplant in cold water. 
Squeeze the water from the gelatine and melt it in a saucepan with a little bit of coffee or water. 
Turn the melted chocolate into the egg mass. 
Stir the melted gelatine into the chocolate mass and turn the whipped cream in. 
Refrigerate the mousse. 
Coffee-chocolate crumble: 
Put the chocolate in a bowl and melt it over a water bath. 
Put water and sugar in a saucepan. 
Put the pan on the burner and boil sugar and water in a sugar syrup - the syrup must be 145℃ hot. 
Whisk the hot sugar syrup into the melted chocolate. 
Pour the chocolate crumble onto a piece of baking paper and let it dry. 
Put the coffee beans in a spice grinder and grind them. 
Mix crystallized chocolate and coffee together. 
Coffee syrup: 
Put coffee and sugar in a saucepan and boil it into a thick coffee syrup. 
When serving 
Fill the cakes with coffee-chocolate mousse. 
Roll the cakes in coffee syrup and then in the coffee-chocolate crumble. 
Spread Dushi Buttons and Jasmine Blossoms around the cake. 
Recipe: Søren Kyed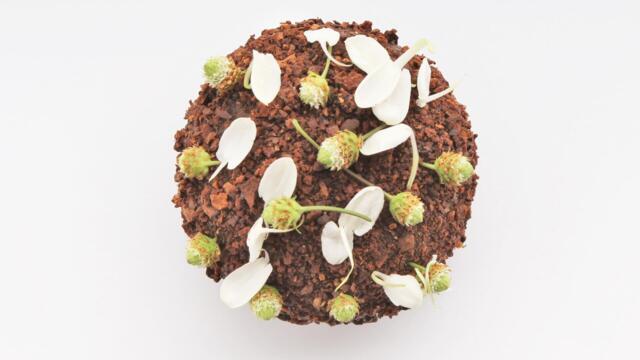 Related recipes
Gastronomical masterpieces
Related products
Say yes to the cress