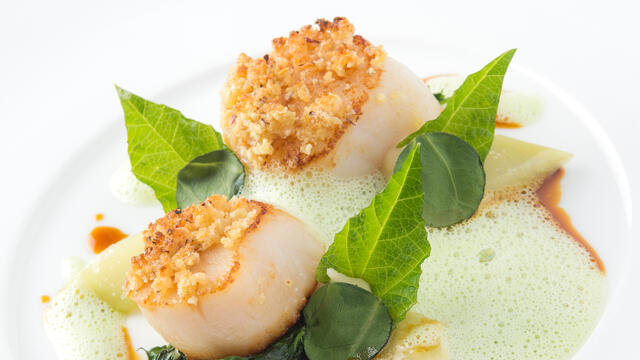 Scallop, Salad Pea, hazelnut, poultry stock
Mathias Maucher has a kitchen that has a feel for the region, but also wants to open up to the world.
Ingredients
8 scallops
poultry fund
butter
oil
pepper
salt
mousseline from celeriac
For the hazelnut crust:
56 g roasted hazelnut
115 g butter
140 g panko
1 tsp mustard
salt
pepper
For the chard:
1 chard leaf with stem
butter
shallot in coarse brunoise
For Salad Pea's frothy sauce:
5 dl poultry stock
2 cl white wine
2 cl noilly prat
1 tsp butter
1 chopped shallot
1/2 clove of garlic
60 g Salad Pea
6 dl cream
salt
pepper
Method
For the crust, beat the butter until fluffy, chop the nuts and mix into a crust to brown the scallops. Remove the stem from the chard, cut the stem into 16 even pieces and cut 12 small rings out of the leaf.
Braise the stem with a little butter and reserve the leaf. Bake the scallops crispy on the plancha but keep them nice and glassy inside.
For the foam, fry the garlic and shallot without colouring, deglaze with the wine and noilly prat, reduce by half, add the stock, reduce again by half and add the cream and the Salad Pea.
Finish with salt and pepper, mix the sauce carefully, pass through a sieve and make fluffy with the hand blender.
Place a spoonful of mousseline in a plate, dress the scallops on it and garnish with the other components. Finally, spoon in the frothy sauce and stock and garnish with the chard.
***
Himmel un Äd
Kaygasse 2, Keulen
Tel 0049 221 200 80
www.hotel-im-Wasserturm.de
Recipe: Mathias Maucher
Source: Culinaire Saisonnier 83 - Winter 2016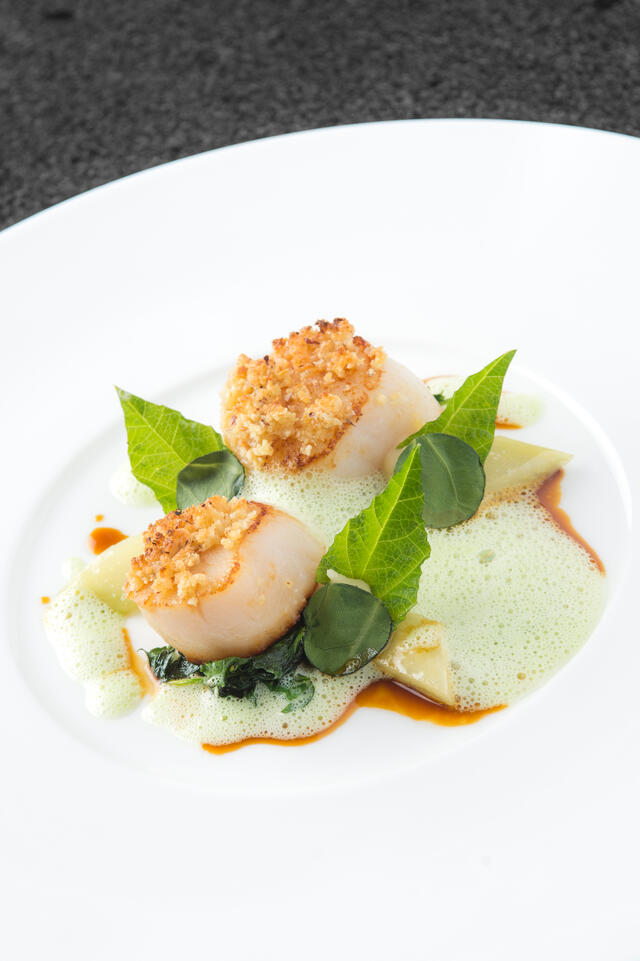 Related recipes
Gastronomical masterpieces
Related products
Say yes to the cress