Ingredients
(For 4 portions)
2 punnets Ghoa Cress
12 twigs Salad Pea
600gr chanterelles mushrooms
4 small round courgettes
12 quail eggs
50gr unsalted butter
2 tbsp olive oil
2 pinches white ground pepper
2 pinches fine sea salt
vegetable oil for frying
Method
Wash the chanterelles mushrooms under clear water, ready to use. 
Cut the top of the round courgettes, remove the seeds, and cook them in an oven at 220℃ for 15 to 20 minutes with a drizzle of olive oil. 
Drizzle a non-stick frying pan with the olive oil and add the butter, once melted, add the chanterelles mushrooms, and let cook for 4 to 6 minutes, tossing the pan time to time. 
Once cooked, leave the mushrooms in the pan and add one and half punnet of freshly chopped Ghoa Cress, season to taste and leave aside. 
Bring the vegetable oil to a very hot temperature and pour the quail eggs one by one, making sure to fold the white from the eggs on top of the yolk with a spoon. 
Fill the cooked courgettes with some of the mushrooms, arrange the rest in the plate, add the fried quail eggs and the cooking juice from the mushrooms. 
Add a few Ghoa Cress seeds, the Salad Pea, the rest of the Ghoa Cress and serve. 
Recipe: Franck Pontais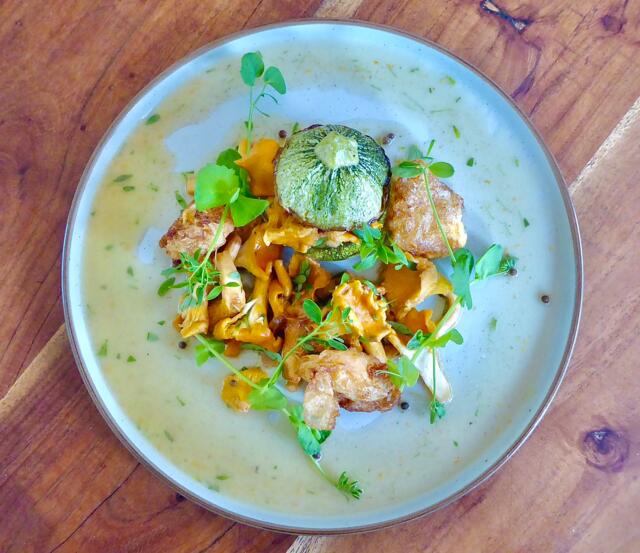 Related recipes
Gastronomical masterpieces
Related products
Say yes to the cress