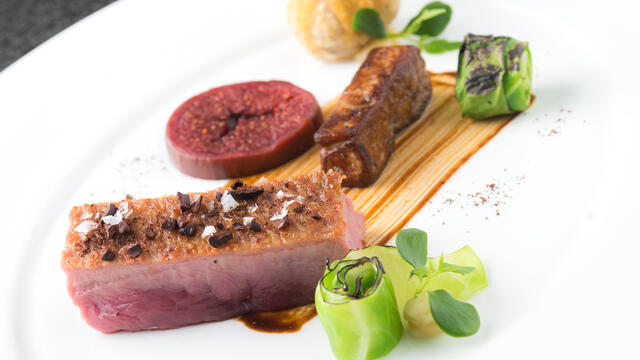 Duck, coffee, fig, Tahoon Cress
Mathias Maucher has a kitchen that has a feel for the region, but also wants to open up to the world.
Ingredients
Tahoon® Cress
oxheart cabbage
butter
nutmeg
cocoa nibs
salt flakes
mousseline from parsley root
fried duck liver
mole (spice mixture)
duck gravy
For duck preparations:
2 ducks
2 sprigs of thyme
2 sprigs of rosemary
1 tbsp butter
2 cloves of garlic
3 tbsp sunflower oil
4 spring roll sheets
salt
pepper
5 dl olive oil
For coffee lacquer:
5 cl red port
5 cl madeira
2 dl espresso
13 year old balsamic vinegar
Kahlua liqueur
For the fig:
1 fig
5 cl red port
5 cl of fig balsamic vinegar
3 black peppercorns
4 coriander grains
10 g of sugar
1 cardamom pod
Method
Cut the legs out of the duck and preserve it in olive oil with the thyme, rosemary and garlic. Pick the meat, make small pouches in the spring roll sheets and fry until crispy.
Remove the breasts from the carcass, cut slightly crosswise, fry crispy on the skin side, fry briefly on the meat side, regularly stirring with the butter and let the meat rest.
For the paint, reduce the port and madeira by half, add the remaining ingredients and season. Prick the fig, boil the remaining ingredients and marinate the fig for 2 weeks.
Cut the fig into 4 slices. Blanch the loose pointed cabbage leaves, cut long ribbons, roll them up and baste with the melted butter and nutmeg.
Heat them briefly in the oven and burn them with the gas burner. Apply the lacquer to the plate and add the duck, pointed cabbage and fried liver.
Add the fig and the crispy spring roll, garnish with Tahoon® Cress and sprinkle with some mole.
***
Himmel un Äd
Kaygasse 2, Keulen
Tel 0049 221 200 80
www.hotel-im-Wasserturm.de
Recipe: Mathias Maucher
Source: Culinaire Saisonnier 83 - Winter 2016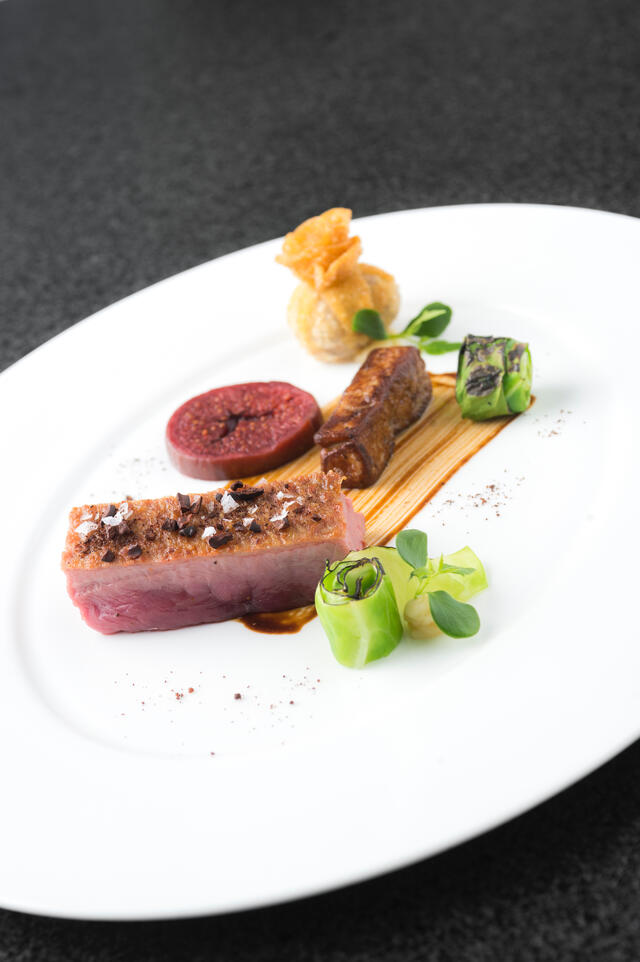 Related recipes
Gastronomical masterpieces
Related products
Say yes to the cress