Ingredients
12 fresh oysters
125 ml kafir yoghurt
100 ml olive oil
1 lemon
1 Hippo Tops
1 Apple Blossom
1 Zalotti Blossom
1 Bean Blossom
1 Gangnam Tops
1 Anise Blossom
1 Moai Caviar
1 Citra Leaves
1 Jasmine Blossom
Method
Wash the oysters and open them all with an oyster shucker.

To make the Hippo Tops oil, blanch the tops for 3 seconds, cool in ice water and after squeeze all the liquid out. Blender with the olive oil for 2 minutes till completely fine. Strain trough a cheese cloth and reserve the oil. Season with lemon and salt.

Oyster 1. mix 2/3 kefir with 1/3 Hippo Tops oil. Remove the liquid from the oyster and top the oyster with a spoon of kafir/Hippo Tops oil. Add the Bean Blossom and Anise Blossom.

Oyster 2. Gently warm the oysters in their own liquid. Place the oysters in a plate and add two spoons of kafir/Hippo Tops oil. Add Moai Caviar, Jasmine Blossom, Zalotti Blossom and Citra Leaves.

Oyster 3. Keep all the liquid in the oyster and top with Gangnam Tops, Apple Blossom and Moai Caviar.
Recipe: Bart van der Lee - MasterChef The Professionals Finalist 2020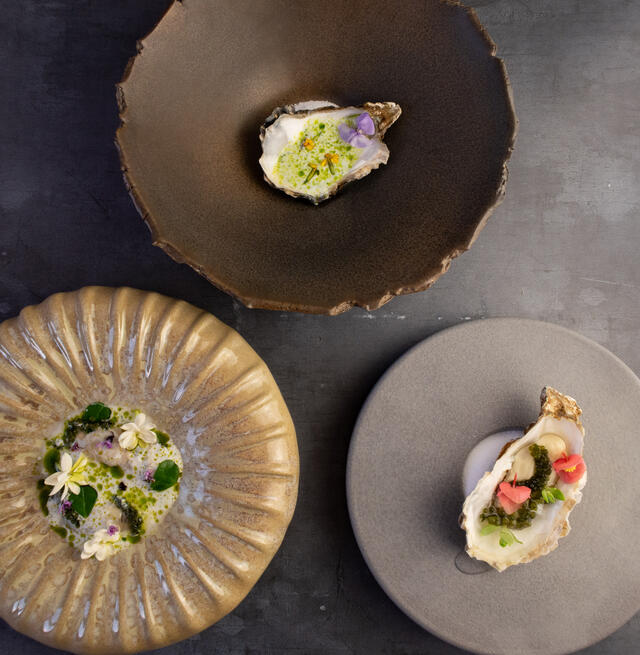 Related recipes
Gastronomical masterpieces
Related products
Say yes to the cress