Ingredients and method
Drink ingredients:
50 ml gin
150 ml tonic
garnish with activated Cardamom Leaves
orange wheel (whole or half)
Drinking method:
Pour the drink (gin and tonic) into a chilled glass.
Add to this some ice, a whole or half orange wheel and a Cardamom Leaves leaf.
Stir it well with a spoon.
Bite ingredients:
zest of orange
powder of Cardamom Leaves (2 minutes in the microwave, grind in a coffee grinder, sieve)
creme fraiche
orange
White chocolate
Shiso Leaves Green
Bite method:
Cut out the flammkuchen with a round cutter.
Mix the creme fraiche with the Cardamom Leaves powder.
Spread the creme fraiche thinly over the dough.
Place 7 orange slices on top.
Grate over the white chocolate and orange zest.
Bake in the oven for 6 minutes at 225℃.
Sprinkle with chiffonade from Shiso Leaves.
Recipe: Dik & Schil and Eric Miete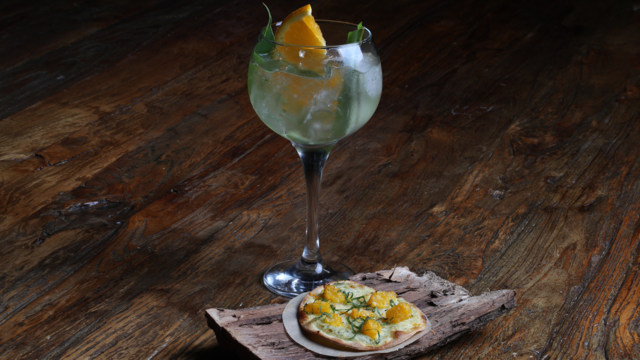 Related recipes
Gastronomical masterpieces
Related products
Say yes to the cress