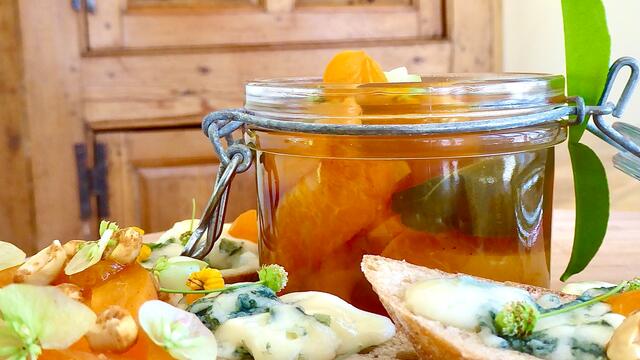 Pickled apricot bruschetta with Roquefort cheese
Ingredients
(For 4 portions, 8 bruschetta)
Pickled apricot:
2 Kaffir Lime Leaves
4 Dushi Buttons
3 Floregano
50gr granulated sugar
50ml red wine vinegar
200ml water
700gr fresh apricot
Bruschetta:
4 Floregano
8 Dushi Buttons
8 Anise Blossom
8 slices ciabatta bread
olive oil
80gr Roquefort cheese
Method
Pickled apricot:
Cut the apricots into wedges. 
Dissolve the sugar with the water and vinegar and pour into a thick saucepan. 
Add the Kaffir Lime Leaves, Dushi Buttons and Floregano to the liquid. 
Bring the pickling liquid to boil for 20 seconds and add the apricot wedges. 
Bring to boil for another 10 seconds, turn off the heat and place a plate on top of the pan. 
Let cool down for 15 minutes and transfer into a preserving jar. 
Let infuse for at least 24 hours before using the pickled apricot. 
Bruschetta:
Drizzle the ciabatta bread with the olive oil and toast the slices in a hot oven. 
Add 10gr or Roquefort cheese on one side of each bruschetta and put back in the oven for 30 seconds to slightly melt the cheese. 
Add 2 to 3 pieces of pickled apricot on the over half of the bruschetta and serve with the Floregano, Anise Blossom and Dushi Buttons. 
Recipe: Franck Pontais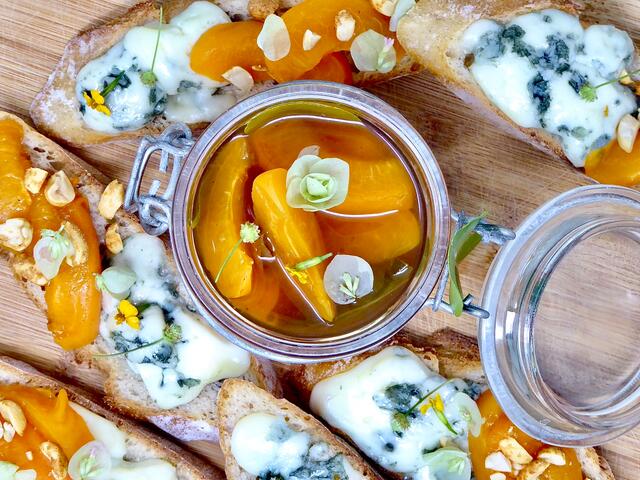 Related recipes
Gastronomical masterpieces
Related products
Say yes to the cress